We're proud to announce an all-new initiative that offers our world-class customers a whole new kind of value. Introducing The RealtyNinja Marketplace!
RealtyNinja has been doing some serious growing up this year. Throughout our maturation process, we've realized a few things. We've realized:
where our strengths lie and where are weaknesses are.
that our customers are our greatest source for learning and growth.
that providing our customers with more value is our top priority.
These three realizations have been pivotal in the development of our latest resource for agents: The RealtyNinja Marketplace. We've been working on this project in the shadows for months now, communicating with vendors, creating relationships and striking deals. All in the name of creating an awesome resource for you.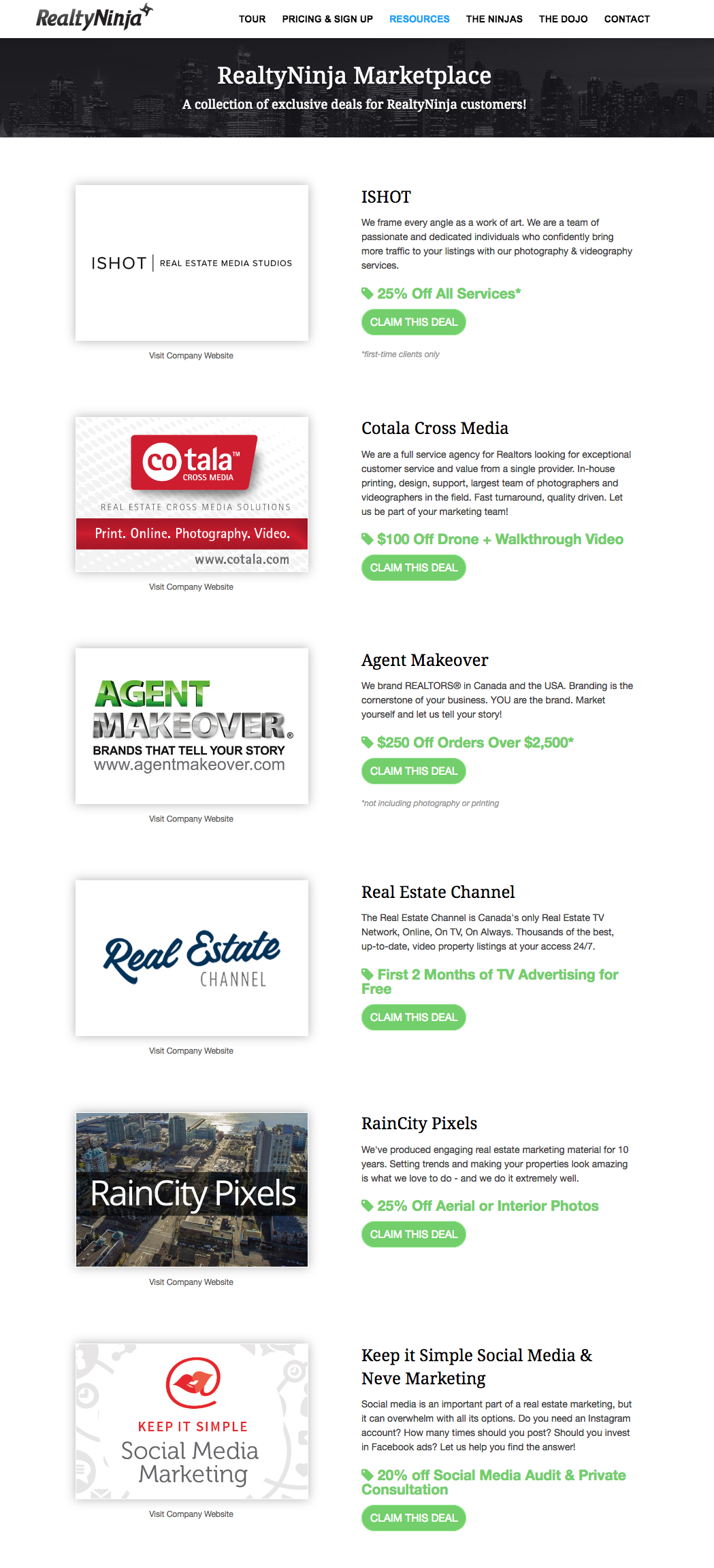 Today, I'm so proud and excited to announce that we're officially ready to launch The RealtyNinja Marketplace live for our customers. You can access The Marketplace at any time by visiting www.realtyninja.com/marketplace (ps. you don't need to be a customer to check out the deals, only to claim them!)
Here's how it works:
Browse the deals available to you in The Marketplace,
Find a deal you want, and click "Claim This Deal,"
A lightbox will pop up with further instructions!
When claiming a Marketplace deal, you will need to prove that you are an active RealtyNinja customer by showing the 3rd party company the "Powered by RealtyNinja" badge on your real estate website, hotsheet or IDX plugin. (Note: Marketplace Deals not available to Trial accounts, only Active RealtyNinja accounts)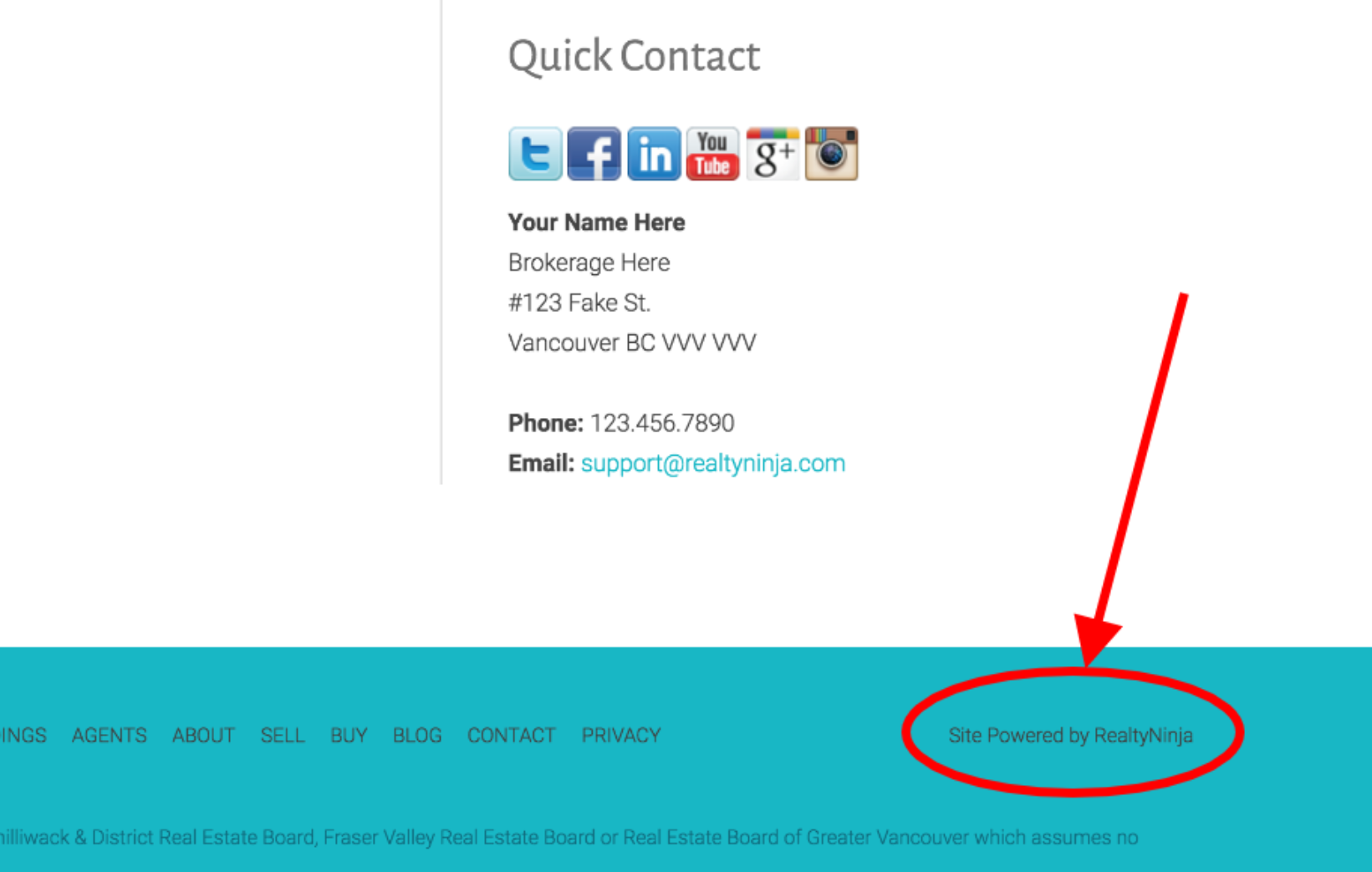 I will personally be working to add more exclusive deals from awesome vendors to The Marketplace on a regular basis – it's constantly being updated. We see The Marketplace as this awesome shopping mall for real estate agents where everything is on sale and new shops are opening all the time!
In the coming months we plan on adding vendors in the following categories: PPC Advertising, SEO Services, Virtual Tours, Photography, Videography, Branding & Design, CRM Software, Social Media Marketing, and more! The deals are primarily BC-based at this point, but we will be working with vendors across Canada to expand The Marketplace.
Not only will new deals be added, but old deals may be updated too so please bookmark The Marketplace and check back frequently to save tons of money on the services you already use and need! And if you know any awesome companies that should be part of The Marketplace, please let us know.
[-_-]~~~ Ninja Tip: If you subscribe to The Dojo mailing list, we'll keep you posted via email about new RealtyNinja Marketplace deals!
In 2016 we've published a modern REALTOR® marketing ebook, created various free downloads for agents, produced weekly educational blog content, optimized our customer support processes, enhanced our agent websites, and made many more simple yet significant updates to our service and value proposition.
The RealtyNinja Marketplace is another foot forward on that same path. We intend to ring in 2017 knowing full-well that it's going to be the most exciting year ever for us as a company, but most importantly for our epic customers. If you are not already using our awesome websites for real estate agents, sign up today to get access to The Marketplace!
If you have any questions or comments regarding The Marketplace, or if you would like to see a deal from a specific service provider please let us know in the comments or via email to info -at- realtyninja.com