In the nine months since we announced our latest website innovation for REALTORS®, a phrase I've become very familiar with is
"When is Katana ready?"
That tells me that you are all very enthusiastic and eager about Katana. Your enthusiasm is the fuel that is powering our team these days – For that we THANK YOU SO MUCH!
We're so appreciative of your excitement, and we have good news and bad good news for you.
—-> I'll start with the bad news: I still can't say when Katana is going to be available to the public. We have no firm dates yet.
—-> Now the good news: We are already well into our Early Access list, and many agents have been invited to set up Katana sites…
… YOU could be next! (HOT-DIGGITY-DOG!)
Since October 13th 2016 – and actually for about a year before that – our development and design ninjas have been working on Katana every day, many nights, most weekends and even during vacations. (seriously!)
In fact, since the announcement last Fall, we've actually hired a new software engineer (James,) a new design expert (Rommel,) and a new customer support agent (Anne) – all to help with Katana development, preparation, and public launch.
While our developer Ninjas are finishing off the MLS® Search functionality and a few other functions in Katana, our design Ninjas have created 14 Example Katana REALTOR® websites.
*NOTE* Some of the examples on the demo site are not yet complete, so clicking them won't do anything. Others will take you to a demo page that allows you to adjust the screen size.
---
These examples demonstrate the versatility, power, and beauty of Katana. You can view all of them on our brand new demo site:
---
—-> These Semi-Custom designs are all available for sale.
To refresh your memory, with Katana you'll be able to choose one of these pre-made designs as a starting point for your theme customization order, and have our Design Ninjas professionally customize it to match your brand needs.
More details in the FAQ here.
My favourite Katana demo site from this list is Kyne! WHICH ONE IS YOUR FAVOURITE? —– Let me know in the comments at the bottom of this post.
(PS. Most of these designs are named after famous ninjas or ninja-related things! Cooooooool, right? [-_-]~~~)
One way or another, our entire Ninja team has been somehow involved with Katana, whether it's design, support, development or marketing – we're all neck deep!
That's why I decided to ask a few of our Ninjas – including myself:
"What is it about Katana that YOU are you

most

excited about?"
Here's what they had to say:
Chelsea Nixon, Lead Support Ninja
"I'm most excited about the creative aspect of Katana. Katana will allow our clients to have more creative control over the layout of individual pages, image options and editing of the overall design."
Ramin Sabour, Co-Founder Ninja
"I'm most excited about the semi-custom design options we'll be offering with Katana. It's a budget-friendly (and time friendly) way to get a modern, professionally branded website that looks like you spent 20 grand and 6 months on it. All for typically a few hundred dollars and a couple weeks of time."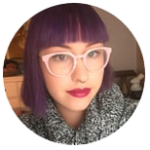 Roxanne Dupuis, Lead Design Ninja
"I can't wait for Katana because it's going to let me help my customers have the exact look they want in less time and for less money… I want people to love their online presence, and Katana already gives them that step above other sites just by using it. People are going to be excited to see their site live, and I love that."
Sepy Bazzazi, Marketing Ninja
"I'm super eager to get Katana into the wild, because it has infinite customization potential. I want to see what kind of incredible real estate websites are possible using this new platform. We have hardly scratched the surface with the 14 website examples you saw today. Katana is the future!"
---
When we're done working with the Early Access list, and have finally released Katana to the public, I predict something special is going to happen:
Thousands of Canadian real estate agents and the 3rd party designers who work with them will be customizing the heck out of Katana on their own. This is going to result in hundreds of unpredictably awesome Katana websites…
—-> Website designs we never even imagined!
Katana is a "theme" unlike any other… you will have the ability to create a website unique to your brand, different from anything out there – and all for the same low monthly Ninja fee of $79 (or $69 if you go annual!)
We're currently putting the finishing touches on some of the major features that are missing in Katana. Primarily:
The Blog Feature,
MLS® Search,
and Embed Tool.
With every hour in every day, we are approaching the finish line: a COMPLETE product.
We will have more detailed updates in the future regarding completion and public rollout – so stay tuned, Ninjas! It's an exciting time to be a REALTOR® in Canada.
Note: As mentioned in this article, we have no firm public release date for Katana. Please don't respond to this article asking us "When is Katana ready?" – if you do, you will receive a canned response, probably copy/pasted from this article.