I'm not about to tell you that your real estate blog is a tried and true tool for generating visitors to your website.
You're a modern real estate marketer, which means you already knew that. Plus, I've done that in The Dojo before and I'll do it again before long.
Today's article serves a more utilitarian purpose.
In this article you'll find a few tips that can be applied to your real estate blog articles from now on. Some of these tips will help you send more traffic to your blog by making you more discoverable, others will help you make your articles more enticing and polished.
I didn't invent these tips either.
Some of our favourite businesses are applying the different ideas below to their blogs, which boast hundreds of thousands – even millions – of monthly readers. These are not all tips that I currently use in The Dojo, though I do aspire to try all of them at least once.
You should try them too!
It's of little concern what your skill or experience level is when it comes to blogging. I believe that almost any level of blogger can walk away from this article with at least one new idea – I know I did.
If you have any questions about any of the tips below, leave a comment at the end of the article and a Ninja will get back to you right away.
Mini Infographics
Infographics are shared and liked 3x more than any other visual materials available (Source)
Let's say you're writing an article for your blog that highlights great home staging ideas for industrial lofts. You've placed a lot of information in the article, yet there are 10 main points that readers shouldn't forget. Take those 10 points, simplify them into a couple sentences each, and place them over a relevant image using one of the 30 "content & design" tools in this list.
Embed these 10 images in their appropriate places throughout your blog post. These graphics stand to help you earn SEO juice when optimized with ALT tags. They are also highly 'shareworthy', and are often more likely to be re-shared in a social media post than the blog post itself.
An added bonus is that your infographic and the link to your blog post will now also appear in relevant Google Image search results!
Readability & Structure
The average attention span in 2015 was 8.25 seconds. (Source)
We humans have evolved to have very short attention spans (less than a goldfish apparently), so at times all we do is skim articles for the information we need. On the other hand, sometimes we want to sit down and comprehensively go through a few articles over lunch or coffee.
Make sure you're writing your blog content in a way that appeals to both human impulses. Break your paragraphs into 2-3 sentence clusters at most for easy reading and skimmability. Make sure each paragraph encompasses a single point or thought.
Keep sentences easy to read as well. Big fancy words can be useful at times, but unless your target market is PHD's you should be writing for a basic English comprehension level. Your words per sentence, the number of passive sentences vs. active sentences, even the number of characters per word you use come into play on a micro-scale.
Test your written real estate blog content's readability score using this tool, then make some adjustments before you publish next time.
Interlinking (Linking to Yourself)
Once you write 21-54 blog posts, blog traffic generation increases by up to 30%. (Source)
Create a web of connections between all of your blog posts by interlinking them together. When you place a link to useful information within other useful information, the reader is naturally incentivized to click it.
Interlinking also tells search engines that the type of article you're linking to from a page is directly related somehow to the type of content on that page. This builds site authority for your real estate domain, which equals higher SEO rankings.
But how do you do this effectively? What I see REALTORS® doing time and again is simply pasting a long form URL in their blog posts like this:
" Promoting your real estate website is important. Here's a blog we wrote featuring 19 ways to promote your real estate website: https://www.realtyninja.com/blog//19-ways-promote-real-estate-website "
Notice how I didn't even link it to anything? You would have to copy and paste that URL into your browser's address bar and hit ENTER for it to work. Can you believe I would make you do all that work!?
This is definitely the worst case scenario for Interlinking. What you actually want to do is make use of relevant keywords when you're linking. That same example above should look more like this when executed correctly:
" Promoting your real estate website is important. "
It's the same information just presented more enticingly, and more importantly linked correctly. By linking the words "Promoting your real estate website," I'm telling search engines that those words relate to the content on the page it's linked to.
Try linking to 1 or 2 of your other blog articles from each new blog you publish. But don't try to fool search engines – write for the reader and keep your interlinks to an appropriate amount. An article with links on every other word appears 'spammy' to readers and search engines alike. Treat interlinks like salt on food – too much can ruin your dish!
Also try to creatively link to different articles each time you publish, not always the same one!
Optimized Headlines
On average, 8 out of 10 people will read headline copy, but only 2 out of 10 will read the rest. (Source)
With all the content being published every moment on social media now, earning peoples clicks to your site is hard. How do you write compelling real estate blog article headlines that will incent more people to click through?
One tactic I personally use is to make iterative improvements on my headlines using the free blog post headline analyzer by CoSchedule. This little tool will help you make little improvements to your headline by giving you a rating as well as actionable feedback based on stats and best practices. Each time you make a change, it tracks that change so you can track your best headlines in one place.
Note: This is just an automated tool, not some headline grading daeity. Use it as a guideline.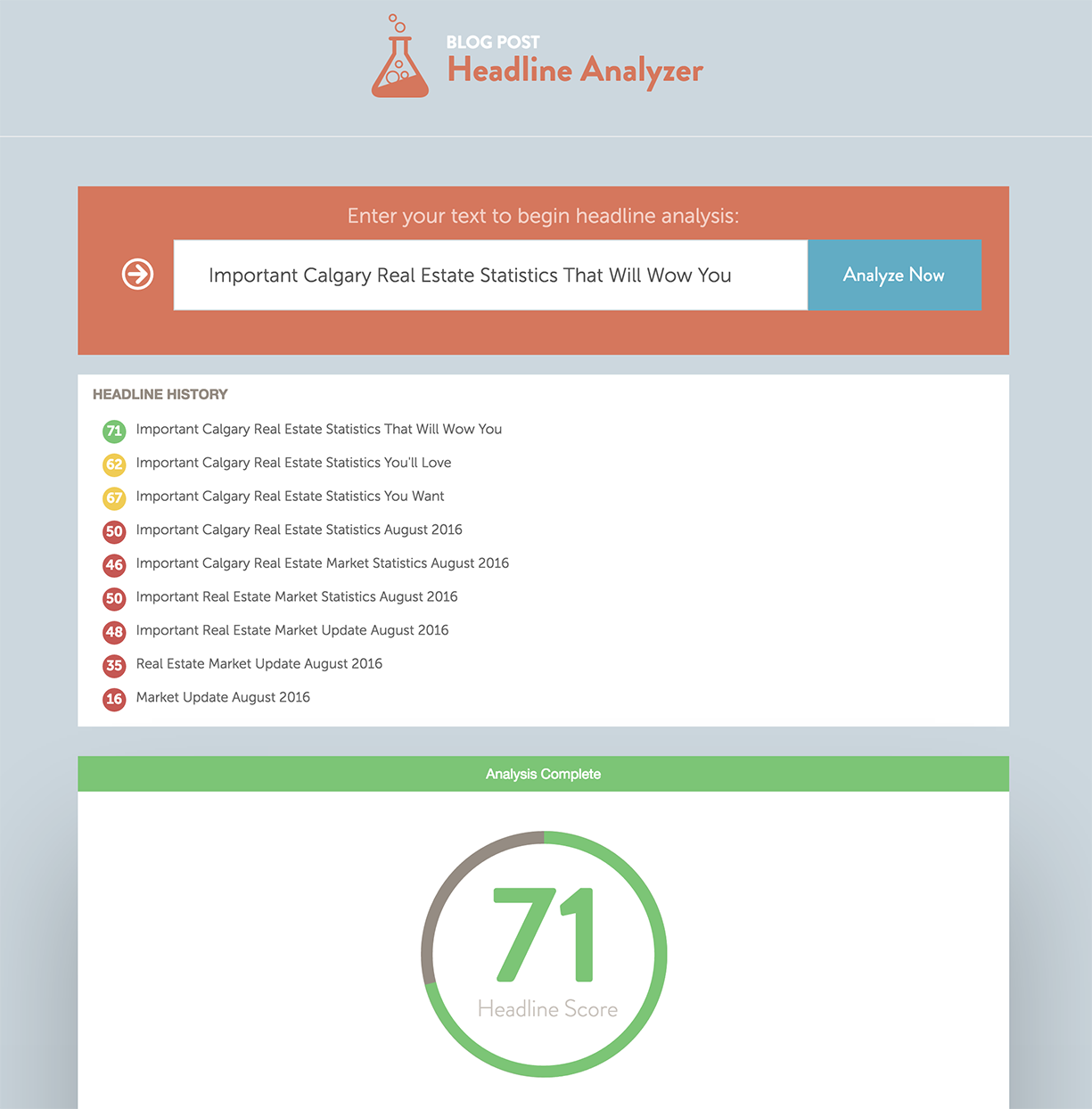 As always, put yourself in the shoes of your audience and imagine a headline that would make them want to click and read more. Make your headline descriptive, so potential readers have some idea of what to expect from your blog content. Even an article about local real estate market statistics can be made more enticing with a good headline. For example:
Bad Headline: Market Update August 2016
Good Headline: Important Calgary Real Estate Statistics That Will Wow You
The bad headline received a rank of 16 when run through the headline analyzer tool, while the good headline received a rank of 71. These little tweaks can mean major differences.
Descriptive Image Captions
Captions under images are read on average 300% more than the body copy itself. (Source)
The use of image captions is so powerful yet so underrated. Such a small detail that most of us leave out can actually greatly impact the amount of time readers spend on your blog, among other things.
Captions can give you an avenue to be quirky or charming, while boosting your SEO juice and engaging your readers for longer. In fact, I would bet that an article comprised of entirely awesome images paired with equally awesome image captions would be one of the best articles you've ever published.
Next time you're sharing a photo of your listings in a blog post, use photo captions to go into detail about what the reader is looking at. If you're posting photos of your community, include captions describing what's going on in the photo, and giving the photographer credit.
All of this means a bit more work each time, but it also adds up when you've published 20 – 50 – 100+ articles.
Tweetable Text Links
80% of Twitter users have mentioned a brand in a Tweet. (Source)
We should all be making our real estate content as easy as possible for people to share. Why place unnecessary hurdles in front of readers who want to re-share something you've said or created with their social media followers?
There are a vast number of social media "share" icons and whatnot out there to help make your blog more social. But I'm more interested in optimizing each blog post itself. That's where the Click-to-Tweet idea comes in.
Using a free service called clicktotweet, you can let people tweet some text from your page with a single mouse-click! You just login with your twitter account, enter the message you would like tweeted, and click "Generate New Link".
Next, you copy the link that was generated for you. Once you have, move back to your blog post, highlight some text and hyperlink it to the generated link. Whenever someone clicks that link, your message will automatically be loaded into a tweet for them – all they need to do is click send!
Here's are 3 examples I just created of tweetable text links:
Example 1: "My mom is a REALTOR®. She is very strong, she can flip a house." (tweet)
Example 2: Like this blog article? Tweet it now!
Example 3: "SOLD is my favourite 4-letter word"
Each of these examples is a bit different. The first invites you to click "tweet" at the end of a quote or sentence, which means the visitor can tweet the sentence prior. The second example shows you how to fit a tweetable text link into a regular sentence. The third example is a bit more sneaky, in that visitors don't really know what's going to happen when they click!
I've also included @RealtyNinja to the pre-defined tweet in all three of the examples above. You always want people mentioning your account in their tweets if possible!
Email List Opt-in
Email is 40 times more effective at acquiring new customers than Facebook or Twitter. (Source)
I know this isn't as much of a "helpful tip" as it is common knowledge these days. The people who are already reading your real estate blog are the best candidates for your mailing list. They are most likely interested in other things you might have to say next week and the week after.
Fish where the fish are, by placing subscriber popups and embedded optin-forms throughout your blog. Play with different locations too, sometimes embed the forms directly in the middle of your article. Other times at the beginning or the top. Or you could make it a popup that appears after 3 seconds of them arriving, or upon them showing intent to exit…
And don't forget your offer! Simply telling people to "Subscribe to my mailing list" is fine and all, and might yield you a few subscribers. If you have a compelling reason for them to subscribe however, that's when you're going to increase your subscriptions.
What happens when they subscribe for your list? Do they receive something right away or do they have to wait? Perhaps a coupon to a local cafe in the neighbourhood, or an exclusive piece of content? What if in order to download a PDF version of the blog post to read later or print, they must submit their email address?
Sometimes even just a proper explanation of your mailing list is enough – "Stay up to date with important happenings in your community by joining my mailing list" says more than "Join my mailing list."
Take a look at Mailchimp and Optinmonster for your email marketing and optin-form needs.
Feature Image for Thumbnails
Content with relevant images gets 94% more views than content without relevant images. (Source)
One complaint I hear consistently amongst real estate pros: your blog posts are showing up without any images when you share them on Facebook. This is really a simple fix! Every blog post you publish should contain at the very least one relevant image. If for no reason at all other than to serve as a thumbnail when you share the blog on social media.
The feature image will be the first photo visitors see when they land on your blog post, like in the example from Katie Burkard's real estate blog above. Either it takes the form of a prominent header (like on our Dojo articles,) or it's a rectangular image near or at the top of the post. When visitors see that thumbnail image on Facebook and click it, they should be taken to a page which shows them the exact same image so that they know they are in the right place.
In general, every blog post you publish should actually contain about three images, but the more the merrier. Include diagrams, and photos wherever you can and optimize them with ALT tags.
Downloadable Article in PDF
70% of consumers prefer to get to know a company via articles rather than ads. (Source)
In some cases your articles may read more like checklists or industry whitepapers. Often your readers will want an easy way to print and save this information for later. Don't make this a struggle for your visitors, especially since it gives you the chance to collect their emails!
Let's say you've just written a beautiful article, loaded with data-backed info and engaging visuals. The title is "Preparing for an Open House? Here are 10 Ways to Prepare." You anticipate that readers might print this article to mark each of the bullets off with a pen once they are done.
So you include a link to download the PDF version of your real estate blog post in all it's glory. But if they want the goods, they will need to share their email address with you (you can set this all up using Optinmonster BTW.) Fair trade!
In the end, you've got a new mailing list subscriber, and your visitor has a piece of your website printed out in their hands. It's a win for your visitor, and a double-win for you.
Engaging Animated GIFs
Animated gifs are the most likely type of image to get shared from blog posts. (Source)
Let's go out on a fun note – animated GIFs are undoubtedly one of the best things about the internet. I actually think it's one of those things that nobody can dislike. Everybody loves animated gifs from my grandmother (true story) to my 7 year old cousin.
No matter what webpage you're on or what social media feed you're scrolling, moving pictures always attract your eye – always always. They can be used seriously to guide someone through a tutorial with great detail, or they can be used to inject some humour and entertainment into everyday content.
If a picture is worth a thousand words then an animated picture is worth a million. Tweets with attached GIFs typically reach far greater audiences than tweets without – and for good reason! They are capable of telling a more complete story and making us feel an emotional response more rapidly.
Next time you're writing a real estate blog post, try injecting some life into it with an animated GIF from Giphy (GIF search engine) or even by creating one yourself with a service like Make A Gif or GIFMaker.me.
---
Some of these blogging tips might be more advanced than others. In which case, you may want to work with a professional marketer until you can get it right. If you need help finding a marketing expert who works with real estate agents in your market, we may be able to help. Email us: info@realtyninja.com
Until next week, Ninjas [-_-]~~~