It's that magical time of year again!
A time when days are shorter, everything moves a bit slower, loved ones bundle together for warmth, we eat and drink more than we should, and we contemplate another year that's passed.
During this time, us Ninjas tend to look both backwards and forward simultaneously. We love reflecting on how we've grown and everything we've accomplished over the last year – but we also get very excited about what's in store for the next 365!
A little bit lower in this post, you'll be able to read a recap of the past year as well as glance into our crystal ball and see what's planned for the future of RealtyNinja in 2019. Before we dive into that, we're sticking to our holiday tradition with a collage of photos from our awesome team in 2018.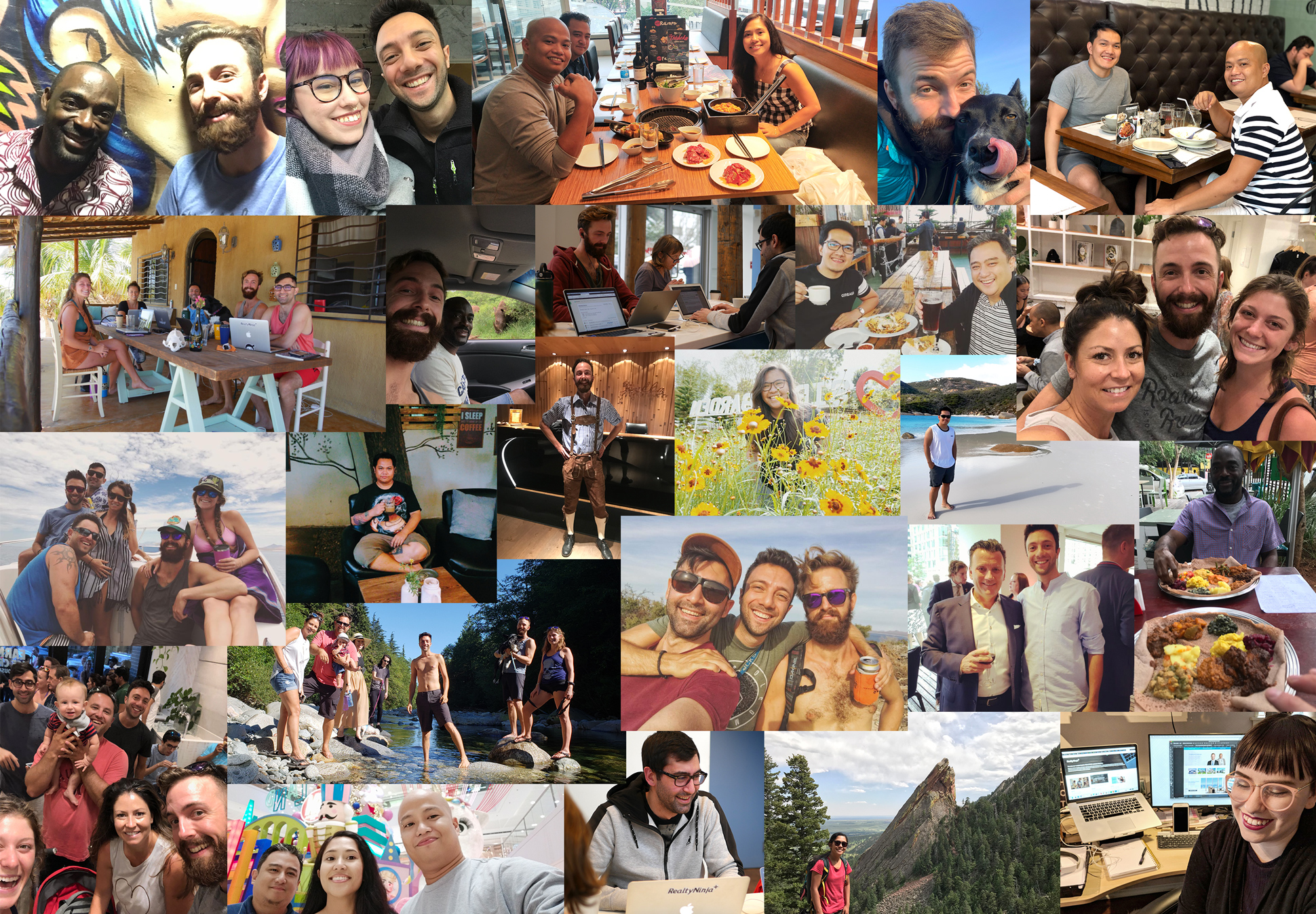 We have a couple important things to mention before we get into the year in review, including our Holiday Hours. If you want to skip down to the review / look ahead right away, click here.
IMPORTANT THING #1: We ❤️ You, Thank You For Everything
In 2018, we had a record year in so many ways.
Over 10,000 email conversations with customers,
94% Great rating on our email responses,
Over 1,180 live chat conversations with customers,
93% Great rating on our chat conversations,
4.7 Stars on Facebook Reviews & 4.8 Stars on Google Reviews,
Over 1000 new email subscribers to The Dojo,
And so much more to be grateful for…
We just wanted to take a moment and thank all of you, our world class customers, for helping us grow and being a part of our success over the years, particularly over this past year. We will never forget that without you, there is no us. From the bottom of our hearts, THANK YOU – you enable us to live happy, healthy lives and we all sincerely appreciate you so much. It seems like yesterday that we officially launched RealtyNinja, but that was almost 9 years ago! Wow.
IMPORTANT THING #2: Holiday Hours
RealtyNinja will be closed from Saturday, December 22nd 2018 until Tuesday, January 1st 2019.
We will be opening again for business on Wednesday, January 2nd 2019 and are excited for the year ahead! We will continue to monitor our email inboxes over the break for emergencies only.
If you have any urgent requests before the break, please contact us as soon as you can!
Now without further ado, here's a look at the past year and some of the exciting initiatives coming in 2019!
---
2018 – A Year in Review
The Big One: We Launched Katana!
It was a long time in the making (over a year of development) but in January of 2018 we finally released Katana, the latest iteration of our site builder software. And since then our design team has created some absolutely incredible websites for real estate agents. Not only does anybody who signs up for RealtyNinja from January 2018 and on get a Katana site by default, but we've also migrated almost ALL of our existing customers from previous themes over to Katana! If you're one of the remaining RealtyNinja customers who still hasn't moved over to Katana, please request your free migration here.
Take a look at some of our favourite Katana website creations from 2018:
A note from our Lead Design Ninja, Roxanne:
2018 was The Year of Katana for the design team, and I am so happy with how much we grew and learned about our new platform. Thank you to everyone who let us craft something beautiful for you. I'm confident that next year will be an amazing time for us, and I can't wait to impress everyone with our next designs!
Bye, Bye Hotsheets, Hello Katana Landing Pages
By creating Katana, we also inadvertently created an uber-powerful Real Estate Landing Page Builder. With your Katana website, you have the ability to create an unlimited number of landing pages, or turn any page on your site into a landing page in seconds! Huge win for your marketing campaigns. For this reason, we decided to get rid of our Hotsheets product (which was just a standalone MLS® search landing page.) Next year we will be focusing more on optimizing the Landing Page functions within Katana. More on that in the "2019 – A Look at What's Ahead" section below. Learn how Katana Landing Pages work.
New Ninjas: Welcome Anna, Jesse & Jan!
With the explosive growth of RealtyNinja in 2018 came the need for additional ninjas. Ninjas to handle the load of customer requests, website setups, migrations and all the other important tasks our support team undertakes every day. We are so grateful to have found three incredible new additions to our team. If you're a customer, you've probably already spoken to at least one of these awesome Ninjas. Welcome to the team Anna, Jesse & Jan! We are going into 2019 with a total of 14 Ninjas on the team! Meet our whole team.
Free SSL Security For Everybody
Making sure your website is SSL Secure (HTTPS) in 2018 was a big priority – for you and for us. In July, modern website browsers began issuing warnings to visitors whenever they were on a "non-secure" website, and that can have a big effect on SEO as well. That's why RealtyNinja customers are now all SSL Secure and we automatically do it for all new sites we launch for no extra cost. No need to worry, Ninjas got your back. We also wrote an informative Dojo article on the topic of SSL back in late June.
New Feature: CRM Integration
Earlier this year, we surveyed our customers and asked which CRM (Customer Relationship Management) software they are using. Based on the responses, we have begun integrating with the top CRM software platforms that our customers love and use regularly. While we continue to work with these CRM companies to provide tighter integration, we have implemented a "BCC Email" option in the back end of your RealtyNinja website. using this option, you can send a copy of all lead emails you receive through your website directly to your CRM software of choice. Learn more about CRM Integration. If you're not using a CRM yet, we recommend Follow Up Boss. Here's our integration guide for it.
New Feature: Rental Support
Before this year, our websites we're solely focused on residential properties for sale and we noticed a lot of our customers trying to use the existing listing fields to display rentals, and it just wasn't ideal. We proudly launched rental-specific functionality and happy to see people making use of it! Learn how it works here.
New Widget: Quick MLS® Search
With the introduction of Katana, RealtyNinja websites are now built using drag-and-drop widgets. This method of building a website provides countless benefits. One of these benefits is that us Ninjas can now develop new widgets to implement into your website. For example, this year we released a new "Quick MLS® Search" widget, which can be dropped into any page of your website. This new slim search bar asks 2 simple questions: what area are you searching? and what property type are you looking for? Learn more about the Quick MLS® Search widget.
Feature Update: Multiple Building Addresses
We've continued to improve our Buildings feature, by implementing the ability to add multiple addresses to a building. We've learned that not all buildings are the same, and that some agents require the ability to provide multiple addresses for one building so that it can capture ALL of the listings in that building instead of just some. Learn more about this new feature.
New Setting: Measurement Units
Previously, your RealtyNinja website could only showcase listings in Square Feet. While this measurement unit is relatively standard, it doesn't address all of our customers' needs. We've now implemented the ability to set these to suit your specific needs. Learn more.
New Feature: Limiting Searchable Areas
We recently enhanced our MLS® listings search and made it so that you can restrict users from searching outside of the pre-selected areas you defined. This is super handy for agents focusing their efforts on very specific geographical areas. Learn how it works.
New Affiliate Program
Now that our new Affiliate Program has been launched, we're partnering with more and more third parties than ever. If you know an awesome company or individual that works with Canadian real estate agents, who should know about our affiliate program, please let us know and we'll get in touch with them! Learn more about our Affiliate Program.
Special Deal for Brand New Agents
We recognize that new agents starting their career across Canada have a ton of up-front expenses. Everything from courses, exam fees, licensing fees, branding costs, a new wardrobe, a new car lease… the list goes on. So us Ninjas wanted to help lighten the load a bit by offering new agents (licensed within the last 6 months) a special deal to get their website started and earning them business. That's why we came up with the New Agent Deal, where new agents can save 25% on their website subscription and design customization fees for their first 365 days with RealtyNinja! This deal is available now, so if you know any new agents starting out, send them here to learn more about the New Agent Deal.
Special Deal for Brokerages
Is your brokerage desperately in need of a website refresh? Then you might want to put your managing broker in touch with us, because we've put together a SWEET deal just for brokerages – and it just might mean a discount for you as well. Qualifying brokerages are eligible to receive a 100% free RealtyNinja website subscription, and all the agents at their brokerage would also receive 15% off their website subscriptions! It's like a win/win/win situation all around. Learn more about the Brokerage Deal.
Released Ebook Part 3 & More Freebie Downloads
The final part of our 3-part E-book was released in June and has been downloaded more than 1100 times! Make sure you grab your free copy today as well as some sweet free REALTOR® marketing downloads.
Customer Success Webinars
Do you ever wonder if you're getting the most out of your RealtyNinja website, or just don't really know where to start? This year we completely revamped our Customer Success Webinar. Hit the ground running in 2019 and register for our next one, its a great free resource for customers. We'll show you what it takes to make your website truly Ninja, and we'll answer your questions live!
Marketplace Additions
We added more than 10 amazing companies to the RealtyNinja Marketplace and locked in some sweet discounts for our customers. Everything from A.I. assisted chatbots for REALTORS®, to PPC (Google Ad) specialists.
New Semi-Custom Design Option: Himiko
Check out our latest semi-custom design option "Himiko", inspired by Queen Himiko a true badass woman in Japanese history.
And Much More…
These are just some of the highlights of 2018. What we're not mentioning are the thousands of lines of code we shipped this year, and countless hours that go into keeping our customers ahead of the pack.
---
2019 – A Look at What's Ahead
Sold Listing Data & VOW
This year we saw some major changes to how Sold Listing Data is being handled by the biggest real estate board in Canada (Toronto), and we believe it's only a matter of time before other boards start to open up access. In early 2019, RealtyNinja intends to stay on top of these changes by prioritizing innovations with sold listing data, and "VOW" integration for our customers (in supported boards).
What's "VOW" you ask? It stands for "Virtual Office Website" and essentially its when you provide additional listing information or added functionality through a password-protected area of your website. Users would sign up for an account, agree to specific terms to get access, and the agent would get a high-quality lead. Access to sold information will most likely require VOW so we've started development on that already. We don't currently have a time-frame or a specific date to give you for when it will be completed but we're going full steam ahead in 2019.
So Much More In Store!
Better Lead Capture Options – Seeing as lead capture is one of the most important items on every REALTORS® list for their website, it's also one of the most important items on our development roadmap. In 2019 we will be focusing heavily on optimizing our lead capture functionality.
Better Team Functionality, Lead-Routing & Contact Info Handling – RealtyNinja websites already have the ability to add additional team members for no extra charge (some competitors charge $25/m per additional team member) and in 2019 we're improving the way we handle contact information for everyone on the team, lead-routing options and more.
Revamped Customer Referral Program – Do you want your RealtyNinja website subscription to be 100% free?! Well in 2019 this is a real possibility for all of our customers, as we will be implementing a new Referral Program (powered by Referral SaaSquatch in Victoria, BC.). Details coming soon.
Landing Page Design Services – If you have a Katana website, you're already able to create an unlimited number of landing pages for free. But we want to help you maximize the abilities of this new feature. Our team of designers and years of website marketing experience would allow you to cut some corners and hit the ground running with an effective, affordable and beautiful landing page design for any of your marketing campaigns in 2019 and beyond.
And lots more, stay tuned!
---
That's all we have for you this year, Ninjas! Thank you once again for a fantastic year. We absolutely love you and we can't wait to reconnect with you all in January 2019!!
From all of us to all of you, Happy Holidays & Happy New Year!