Here's everything you need to know about the latest awesome RealtyNinja product update.
Request More Info & Request a Showing
Now you can tell which stage of the decision making process a lead is in with our new "Request a Showing" feature for listings (which has been automatically activated on all RealtyNinja sites!) In a nutshell, this new function gives visitors the ability to pick a specific date and time of day that they would like to view a listing – giving you actionable feedback. Here is a break-down of how the feature works:
Attention Grabbing Buttons
At the top right of any listing on a RealtyNinja client website, there used to be one call to action button that said "Request Contact". We have split that single action into two distinct actions: 1- Request More Info and 2- Request a Showing.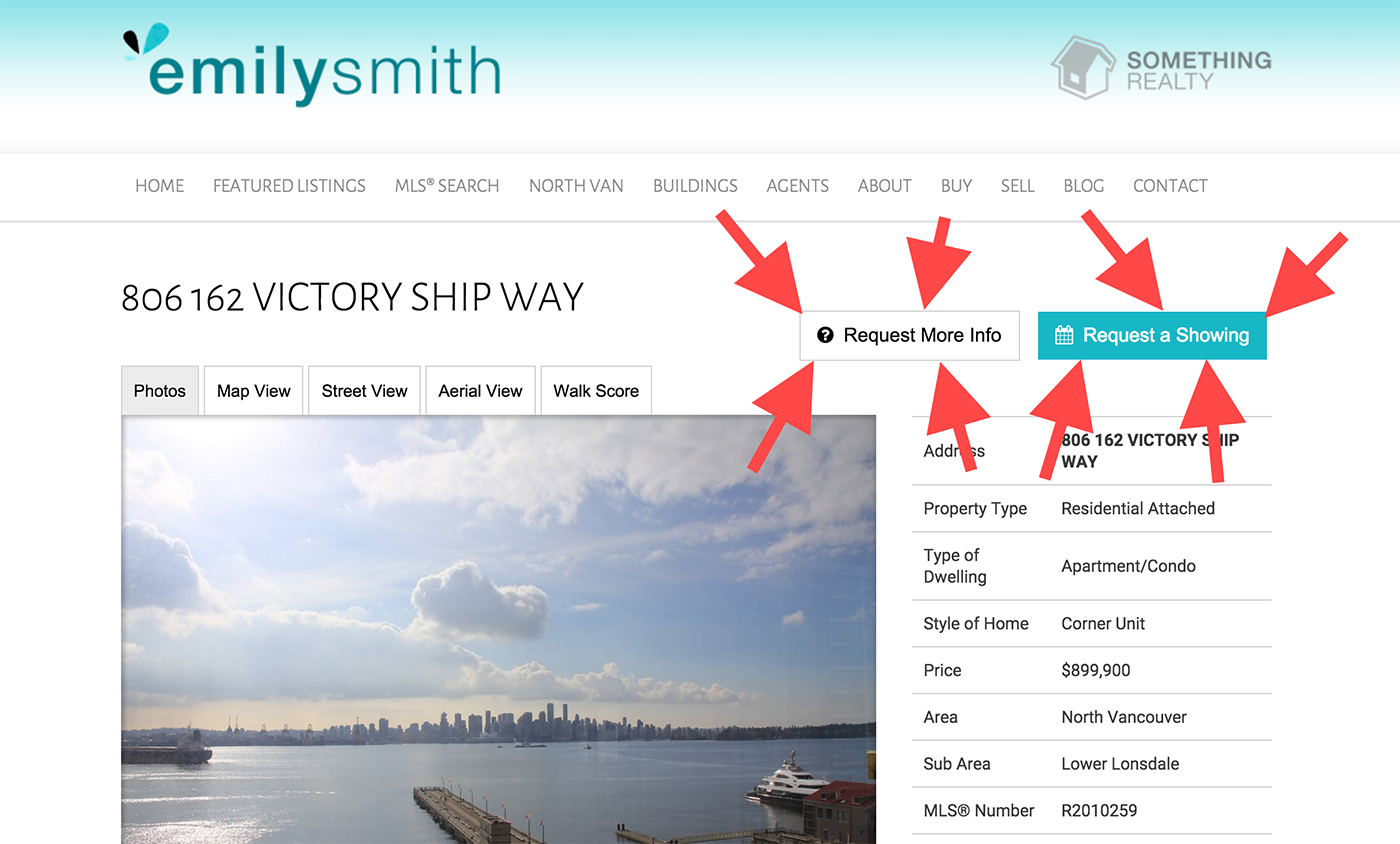 Lead Capture Lightboxes
If you click on these two buttons, they open two very similar lead capture lightboxes, with one very distinct difference. The "Request a Showing" lightbox asks two additional questions: 1- Ideal Date and 2- Ideal Time. High quality leads can now identify themselves by trying to schedule time to view the listing. Not to say that a lead who's using the Request More Info box should be looked upon lightly. See a comparison below:
Lead Capture Forms
At the bottom of every listing page on a RealtyNinja client website, there is an embedded quick-form that gives visitors the ability to send you a message right from within the page. Up until yesterday, there were only three fields on this form (Name, Email, Phone). Now, there is an additional radio button that a visitor will check if they would like to "Request a Showing" of this property. If they click this radio button, two more fields will be revealed for them to complete. You guessed it, "Ideal Date" and "Idea Time". See screenshot below.
Notification E-mails
As soon as a lead fills out one of the forms in the lightboxes I just mentioned, you receive an e-mail. Depending on whether the lead requested more info or requested a showing, you will receive one of two e-mails. There are screenshots of both these e-mails below. You'll notice that they are generally similar with the exception of the Preferred date and time response fields and the slightly different title.
The e-mail also reference their lead capture source by either including (Showing Request) or (Info Request) in the e-mail subject, so you know at a glance which leads are looking for what
On-Brand Colours
Our design Ninjas have done everything to make sure that the new Request More Info and Request a Showing buttons at the top of the listings match the branding colours of your theme. This includes clients who have ordered customizations. Check out how these two new attention grabbing buttons look on a few different client websites.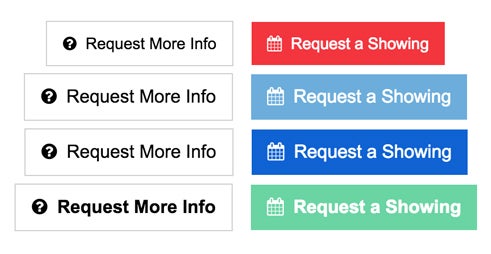 How to Activate This Feature
The best part about this update is that it's already activated. You don't need to pay extra for it, you don't need to sign up for anything. If you check any listing on your RealtyNinja real estate website, you will see these new buttons and forms. The functionality is built into the RealtyNinja platform rather than into individual sites. Enjoy, and please let us know your feedback.
Other Updates to Mention
Editor Hotkeys
When you are using the RealtyNinja editor to update or modify the text on your web pages, you can now use keyboard shortcuts to trigger BOLD, ITALICS, & UNDERSCORE. Simply highlight the text, and:
For BOLD: Hold CTRL* + Click B
For ITALICS: Hold CTRL* + Click I
For UNDERSCORE: Hold CTRL* + Click U
*Swap CTRL for CMD if on a Mac
MLS® Search Top Scroll
If a visitor is browsing your listings, scrolls to the bottom of the results page then clicks next to view the next 20 listings, they will automatically be brought to the top of the page again when the next 20 are revealed. This is admittedly more of an enhancement than a new feature, but it will optimize the experience for your users.
Small SEO Related Tweaks
As you know, we're always making little enhancements to the RealtyNinja platform to increase it's organic search engine friendliness. These changes are often small, and alone could not make a noticeable difference. However, when all of these changes come together and are measured collectively, they stand to give you a noticeable edge over your competitors. This month we have continued to make progress on our SEO related improvements, and will have more specific details for you later this year.
---
Hope that you enjoy the new features and functionality. Stay tuned for many more great updates coming your way in 2016. If you have any questions about these updates, just get in touch and let us know how we can help: support@realtyninja.com
See you next time, Ninja [-_-]~~