Listing photos are the
Swiss Army Knife

of real estate marketing.

Generally speaking, every REALTOR® reading this gets photos taken of the property they are hired to sell. Some of you go the extra mile and even include video.

[-_-]~~~ Pssst. No time to read a 10 minute article?
Get the most important points of this article into your brain in 2 minutes – watch the video below now, and come back when you have time to finish reading.

In this day and age, GREAT content is the path to online success. Whether we're talking about videos, photos, articles, books, movies, podcasts or other online media…
Awesome content is EVERYTHING.
In most industries, entrepreneurs and marketers alike struggle to figure out what kind of content they are going to produce!
Having worked with small-medium sized businesses in dozens of categories over my 8 years in marketing, I'm telling you with first hand experience that it's NOT EASY to come up with unique content ideas.
Luckily for you, that's not a problem REALTORS® need to have…
WHATS THIS SWISS ARMY THING ALL ABOUT THO?
Just as a Swiss Army Knife contains various uses (knife, nail file, scissors, bottle opener, saw, corkscrew, etc.) so can your listing photos undergo various different treatments.
If you've ever taken a real estate listing photo, uploaded it to MLS® AND put it on a printed Feature Sheet, then you already understand the multi-tool reference.
My point is, your job demands that you to create professional photo content on a regular basis. That's a lot of mandatory content over the years…
>> How many different ways are you using that content? <<
If you only use your Swiss Army knife to open wine bottles, then you really aren't maximizing it's potential.
Unfortunately, even with such a unique head start over other businesses, so many REALTORS® still fail so hard when it comes to content marketing.
I believe firmly that applying the Swiss Army Knife mindset to your listing photos is going to change the way you run your business, and the way people online interact with you.
Here are seven tips to help steer you in the right direction:
7 Awesome Content Tips for Your Listing Photos
1.) Create a

Featured

Listing Photo
Pick the best listing photo out of the bunch, and tweak it with a little text overlay!
Use Photoshop, Corel, or a free app on your mobile device such as Snapseed (Android / iOS) to superimpose some text on your listing image. Details you might add:
Address
Listed Price
Neighbourhood or Sub-Area
Tagline (if applicable)
Square Footage
Number of Bedrooms
"JUST SOLD!"
Walk Score
But do be careful not to add too much text to the photo or it will become cluttered and more of an eyesore than anything. Not to mention, Facebook + Instagram don't let you advertise photos that contain more than 20% text.
2.) Prepare Blog Articles
Take your listing photos – don't forget the Featured Listing Photo (see point 1.) – and write not just one, but multiple blog articles around them. By the way, I said WRITE, not Copy/Paste your listing description… #nocheating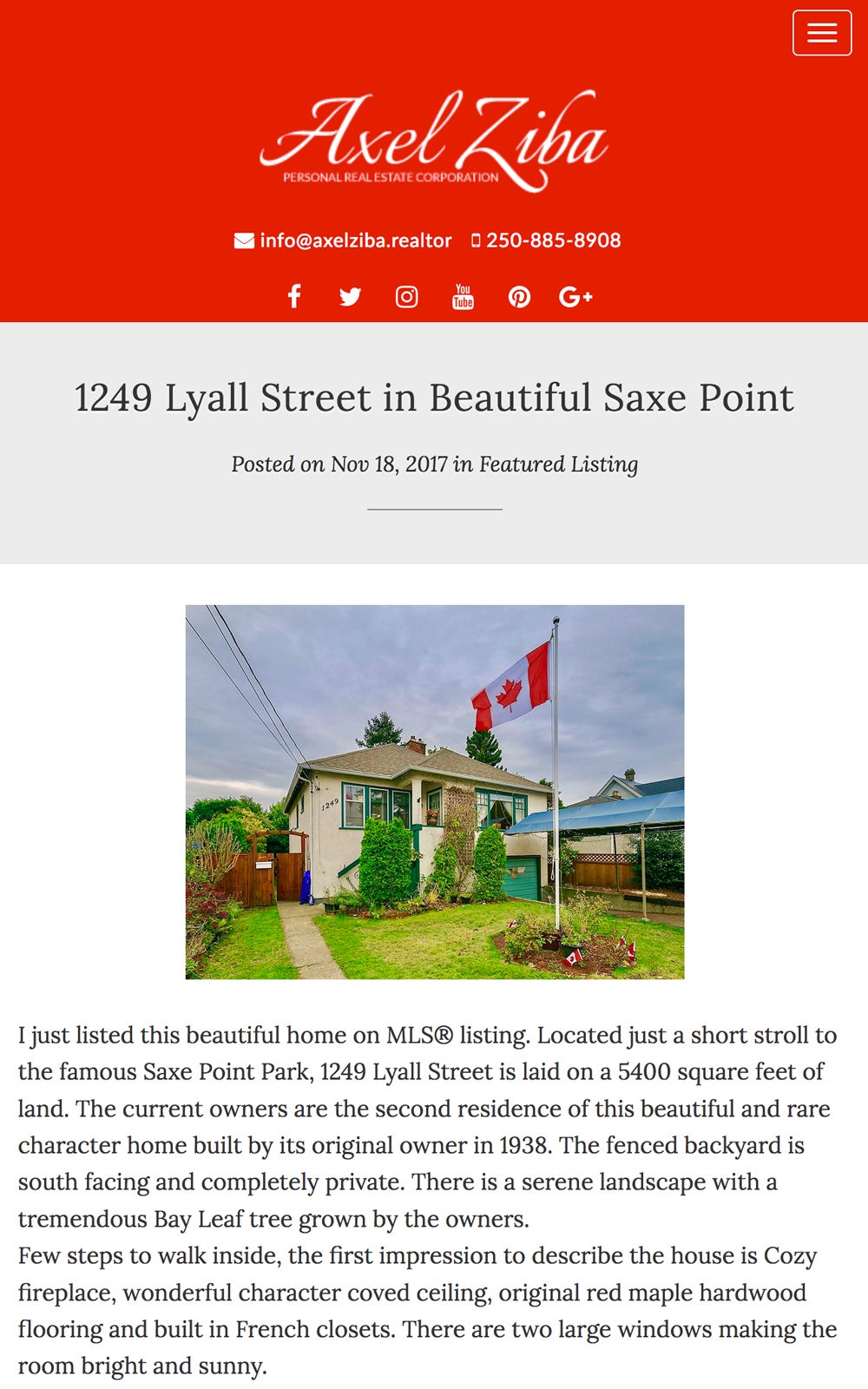 The blog post could tantalize visitors by offering 1 or 2 awesome photos of the listing followed by a brief written introduction to the property… title it "A Sneak Peak at Our Upcoming Listing!"
Or it could be a list of 5 of your favourite listing photos of the month! 2 of them could be from your own listings, 3 of them could be from other awesome listings in your office… title it "5 Best Listing Photos for November!"
Who said you have to choose one? —-> You could use both of the ideas above (or different ideas!) The point is, you can publish multiple different types of blog articles based around your listing photos. Don't limit yourself, but do space them out!
3.) Generate an Animated GIF
Here's a fun one… turn your listing photos into an animated slideshow! You can do this using awesome free tools such as gifmaker.me or Giphy GIF Maker.
The beauty of GIFs is that they are gaining popularity online, to the point where you can now share them (in all their animated glory) on Facebook, in Emails, on Twitter, and beyond.
Once you've created your GIF, you can even embed it into your website! Augment your own listings on your REALTOR® site by embedding an animated listing photo into them (or anywhere!)
4.) Send an Email Blast
Hopefully by now you're collecting email addresses into a database, and are reaching out to those prospective leads via email regularly (and not ONLY about new listings…)
Your email blast could contain one listing photo that links to the listing page on your site. It could also contain ALL the listing photos for a specific listing… it could even contain a few photos, and link to one of the blog posts you created (see point 2.)
By the way, now that you've got an animated GIF of your listings, why not include THAT in your email?? Animated GIFs have been known to increase email click through rates by over 40%! (Source)
Sending a listing email that contains a listing GIF is basically like simultaneously using the knife AND the saw on your Swiss Army tool… double the cutting power!
5.) Share to Facebook / Instagram
There are LOTS of different ways that you can turn your listing photos (or videos) into Facebook + Instagram content. Here are the first 8 ideas that popped into my head…
FACEBOOK

: Share the

Featured

Listing Photo (see point 1.) with a link to check out the full listing on your website.

INSTAGRAM

: Upload 20% of the listing photos of a property as a single Instagram post. This will create a gallery people can swipe through.

FACEBOOK

: Post the animated GIF you created for your listing (see point 3.) on Facebook. Ask people to "Tag a friend who needs to see this!"

INSTAGRAM

: Create an advertisement that showcases a recent SOLD listing photo. Show the ad to people within 5 km of where you sold the listing.

FACEBOOK

: Post ALL the listing photos for a specific property into an album on your Facebook page. Name the album with the address of your listing, and include a description of the property. (Great for SEO!)

INSTAGRAM

: Post a listing photo that shows the exterior of the property. Ask your audience to "Guess the price of this home/condo!"

FACEBOOK

: Create a re-targeting ad that follows people around Facebook with the best listing photo. The ad targets people who have visited any page of your website within the last 60 days.

INSTAGRAM

: Share a unique listing photo and make the post a contest! In order to enter to win the awesome prize (ie. gift certificate to a restaurant in the neighbourhood,) ask people to "like this photo and tag a friend in the comments!"
As you can see, there is no shortage of ways to use your listing photos on social media. You could literally use every single one of the above ideas for your next listing. There is no limit to how many different ways you can repurpose your listing content!
6.) Create Pinterest Boards, Pin Listings
If you are not a Pinterest user, don't just go start an account now. I'm not suggesting that everybody be on Pinterest, it has to work for your brand.
That being said, if you ARE on Pinterest, creating a unique board for every single listing is not a bad idea – or at least for all your listings together. Not only does it help with SEO (if you title the pins correctly,) you can also link each "pin" on your board to the listing page on your site!
You can also mix and match listing photos in different boards. For instance, you could have a JUST SOLD board, that includes hundreds of different listing photos. Or a "My Favourite Listings" board that contains hundreds of listing photos, only 80% of which actually belong to you.
Keep in mind, the more fun you have with these boards, the more likely they are to attract visitors. Pinterest is not a rigid and corporate social media site… no not at all. So before rolling up your sleeves, do confirm that Pinterest is an effective marketing channel for your real estate brand!
7.) Generate a Video Slideshow (for YouTube!)
If you're not creating a video trailer for each of your listings, the next best thing would be a simple video slideshow of the photos!
Your favourite photo viewing application may have a slideshow function built right in (ie, Photos for mac.) But if you need a quick tool to help, try Adobe Spark or Photosnack.
Once you've generated your video slideshow, now just take it to your YouTube channel and upload it with a unique description, appropriate tags, and the address of the listing in the TITLE of the video (important for SEO!)
This video slideshow can now be used all over the place! You can embed it on any page within your site, your blog, in your listings, social media, etc.
Plus, it's now representing your listing on YouTube – aka the world's largest search engine for Videos. #winning
---
Until now, have your listings been an untapped content resource for you?
Did this article open your eyes to some of the many ways you can repurpose listing photos?
Then get out there and use your listing photos in all kinds of unique and beneficial ways.
Not only are your clients going to think you're an extremely savvy and awesome marketer – but applying the multi-tool mentality to your listing photos is going to make your REALTOR® brand look GOOOOOD!!!
Plus, more content = more exposure = MORE LEADS = more clients = more business = MORE MONEY
which is basically why you're even reading this article in the first place. Am I right or am I right?
Let me know if you have any questions or feedback for me, Ninjas. Have an awesome day!