Being a real estate agent is all about delivering a personal touch. Since reviews and referrals are a big part of how you attract new clients, a thank you note can go a long way.
You wouldn't be thriving in the real estate market if it weren't for the support of your buyer and seller clients, no matter how many there are.
Your clients invest more in your real estate business on an emotional level when they can feel their impact. Chances are, the more they emotionally invest in your business the more they'll like you. And when they like you, they're more likely to become repeat clients and refer you to their friends and family.
As we wind down the year, we're giving agents the gift of gratitude. This bundle includes 16 REALTOR® Thank You cards that are each available in two formats: with pre-written greetings inside, or just blank so you can write your own greeting!
Thank You Note To Buyer Templates
Helping your clients find their dream home is one of the most rewarding parts of being a REALTOR®.
Purchasing property is an exciting and big decision whether it's your first time or you've done it before. As the buyer, it can be a long and overwhelming process. Take the time to thank them for their patience and for entrusting you to help find the perfect property where they can make many happy memories.
Personalize your note by including details about why you enjoyed working with them — this is a prime opportunity to be specific and thoughtful!
The "Thank you note to buyer" designs below are included in the free bundle. Download them now, along with the rest of the Canva templates!
---
REALTOR® Thank You Notes After Closing Templates
First and foremost, real estate is a people-centric industry. You've done everything you can to ensure a positive client experience. Sending a thank you note after closing the sale can be a great way to happily send your clients off.
Throughout your time working together, you've probably gotten to know them pretty well. Include any personal knowledge they've shared with you or acknowledge any connections you have. Be sure to use this as an opportunity to personalize your message and recognize them as an individual rather than "just another client."
The "Thank you notes after closing" designs below are included in the free bundle. Download them now, along with the rest of the Canva templates!
---
Real Estate Referral Thank You Note Templates
Referrals are one of the most valuable forms of marketing because they require almost no financial investment and bring in a gold mine of warm leads. It may seem like someone is only passing your name along to a friend or family member, but in reality nearly half the "work" in building trust has been done.
A thank you note to the referral source is a great way to show your gratitude. Sharing your appreciation might make them more likely to continue referring you to people, which can lead to more business opportunities for you!
If possible, let them know the outcome of the referral or any general updates before sending the card.
The "Real estate referral thank you note" designs below are included in the free bundle. Download them now, along with the rest of the Canva templates!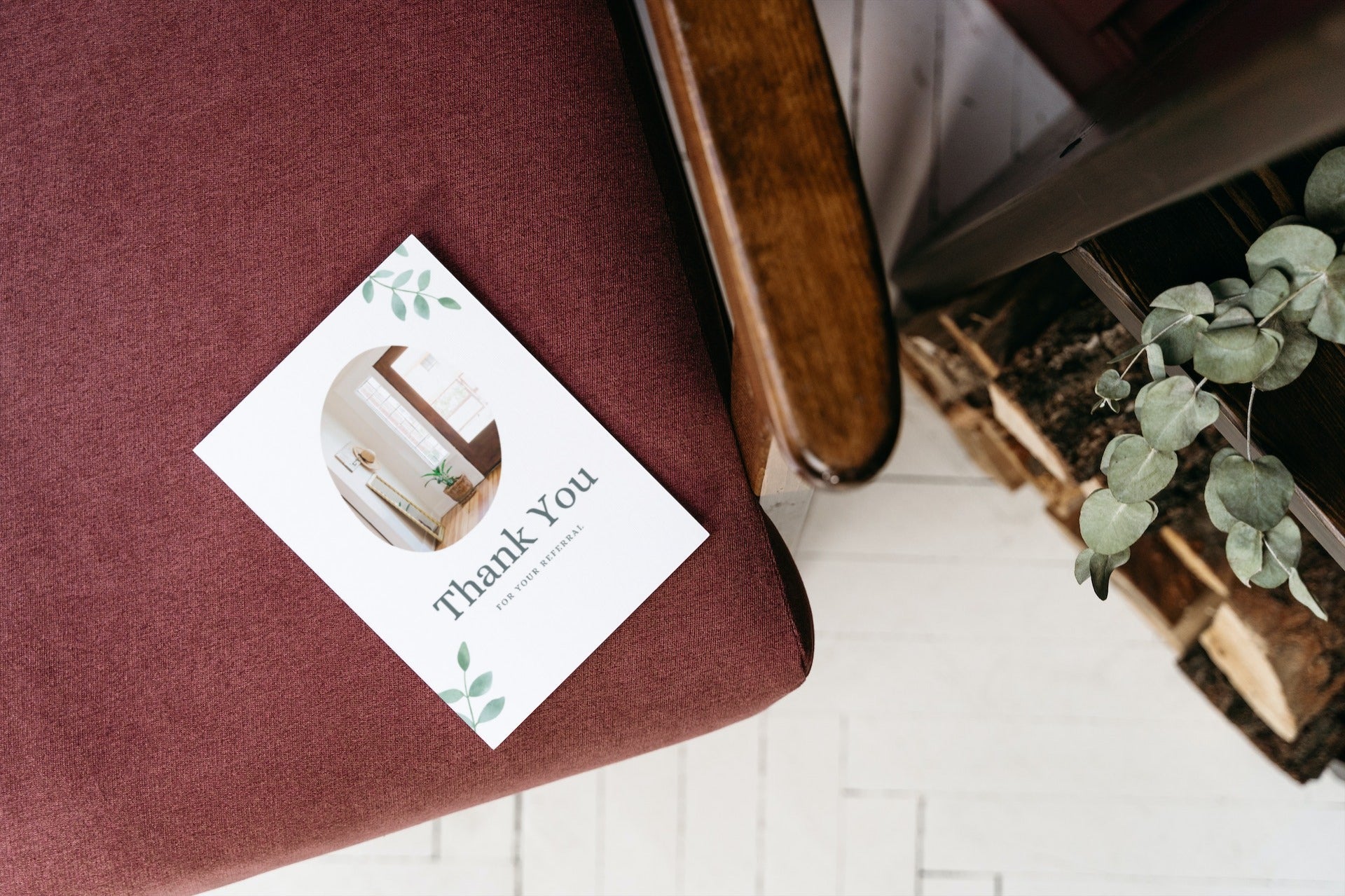 ---
Thank You Note From REALTOR® To Seller After Closing Templates
Closing the deal is one of the most exciting stages of buying and selling a home – it's the grand finale! It's only natural to have developed a bond after the time spent inside the seller's home and on the phone together. Take the time to honor the relationship you've fostered before parting ways.
On top of this, thank you notes ensure you stay top of mind after the work together is done. They remind the seller about the positive interactions you had throughout the experience, while also demonstrating they're more than another paycheck to you.
Many REALTORS® choose to send personalized gifts after all is said and done. It's up to you on how you want to thank your clients, but be sure to include a heartfelt thank you note!
The "Thank you note from REALTOR® to seller after closing" designs below are included in the free bundle. Download them now, along with the rest of the Canva templates!
---
Conclusion
Expressing your gratitude through thoughtful thank you notes can strengthen client relationships, which may, in turn, help you generate more leads and referrals.
In the age of social media, a personalized note – whether it's handwritten or digitally sent – takes a small amount of time but offers a big opportunity to stand out and leave a lasting impression.
Before you close a client file and dash off to the next listing, take some time to show your appreciation with a thank you letter!
Submit your email address below to receive your free thank you note templates, and let us know what you think of these cards in the comments!
P.S. Please allow up to 5 minutes for your file to arrive via email. Usually it takes way less time!