When you filter through the details, the objective of a real estate listing is to showcase the features of a product and assist in it's sale.
Consider the following comparison… The objective of a TV commercial is to showcase the features of a product (or service) and assist in it's sale as well. But does that mean all the TV commercials are created equal, or that one can't be simply more effective or awesome than another?
Obviously the answer is "No".
If an advertisement on TV has varying degrees of quality and effectiveness, then it's a reflection of the media not the medium. The same is true when it comes to advertising your listings through MLS® or your website. The quality of your listing must match the quality of your end product, otherwise nobody is going to be interested. Don't forget, you're selling something worth hundreds of thousands, if not millions of dollars. It's often the biggest transaction your client will ever make. How can you justify using a low-value "commercial" to promote something of such high value?
In this week's Dojo article I'm going to briefly break down tricks to optimize your real estate listings in 8 ways. Some of these optimizations will pertain to your listings on MLS® and other syndicated databased – others will pertain strictly to the customizable listings on your RealtyNinja REALTOR® website due to the limitations within different MLS® systems.
8 Steps to a Great Real Estate Listing
Great Listing Descriptions
High Quality Photos
Virtual Tours
Embedded Widgets & Videos
Floor Plans & Feature Sheets
Listing Syndication
Lead Capture Functions
Promote Online
---
1- Great Listing Descriptions
I'm sure you've read a book that is a total page-turner before. Keeps you engaged and wanting to find out more about the story. This style of captivating writing isn't strictly limited to fiction books, it can be applied to an advertisement or a real estate listing. Instead of a grammatically sub-par list of FABs (Features, Advantages, Benefits), try telling a story about the listing – be romantic about what you're selling and paint a clear picture of what life might be like from that address.
When you read a list of facts or numbers, your mind goes to an analytic state by default, but when you read a fantasy novel your mind is vividly painting landscapes or characters and bringing them to life in your imagination. One of those reads is much more memorable. I'm sure there's an awesome book you remember reading as a child, but you probably don't remember your 3rd grade math textbook. Try to use descriptive language and details that tickle the imagination of people viewing your listing. Your listing will always stand out not only as a good read, but as a pleasant surprise amongst a bunch of boring descriptions throughout their real estate hunt.
Here's an example of a listing description that I really like from one of our Ninja clients, Katie:
"Join the Tiny House movement right here in DT Vancouver. A Beautiful little float home in Coal Harbour. Living on a float home is a marvelous adventure, romanticized by many, realized by few. Now is your chance to own 1 of 20 live in float homes just minutes from the central business district! Charming open concept living area with loft. Nestled in the wonderful, close knit community of Coal Harbour Marina. The view is always changing: heron, seals & yachts from around the world. Steps away from famous eateries & a 10 min walk to DT or world renown Stanley Park. Float home living is the eco-friendly, small footprint way to enjoy all Vancouver has to offer."
---
2- High Quality Photos
I've talked about this so much in past Dojo articles. If you are a REALTOR® who doesn't know the difference between a high quality photo and a low quality pixelated photo, let me break it down for you very simply. The photo directly below this paragraph is a low quality, pixelated photo that I have borrowed from an actual listing. The photo directly below that is a high quality photo that I also borrowed from an actual listing. If your listing photos look anything like the first photo below, you've got a problem that needs fixing ASAP. If your listing photos look anything like the second photo, great work, keep that going! Consistency is key.
[-_-]~~ Ninja Tip: Do NOT use Google Street View to screenshot photos of your property. Ever. Notice the copyright 2014 google watermark in the middle of the above photo? So do your potential customers.
Make sure you're using a real estate photographer to handle this aspect of your business. Don't let your 15 year old nephew who just got a camera to help you out; no amateurs. Don't try to do it yourself unless you really are familiar with the cameras, lenses and equipment required to do what the pros do. And stop taking screenshots off Google Street View.
Don't forget about de-cluttering, staging and cleaning up. This is not my area of expertise by any means, but it's worth a mention. High quality photos taken by a professional + well staged interior/exterior = an end result that both you and your client can be proud of. Not to mention it will help earn your listing the attention it deserves. There are tens of thousands of listings on the market being skimmed through by potential buyers and investors online – every minute of every day. Why not poise yours for the most success with better photos (paired with an awesome description, of course!)
---
3- Virtual Tours
Virtual Tours are personally my favourite piece of media to come upon when I'm browsing listings. Sadly it doesn't happen often enough. A virtual tour embedded into your listing allows your website visitors to have a walk through the entire house, sometimes accompanied by a narrator describing everything you're looking at. This is something your potential clients can be doing from bed on Sunday morning, before they call their REALTOR® and start setting up showings.
Some virtual tours come in the form of embeddable widgets that your visitors can actually interact with. In other words, it places them at the entrance of the house, and they can click around to walk through the digitized version of the house. They have done 360 degree photography, and you can walk through the structure using your arrow keys. This is a pretty neat way to approach your virtual tours.
Other virtual tours are simply video walkthroughs, often accented with drone camera. They take you through a swift walk through of the property and are dubbed over with some narration, giving you a story to accompany what you're viewing. Check out one of my favourite virtual tour videos by Faith Wilson Realty Group. This style is also highly effective and impressive. Your client is going to love you for it.
If you are a RealtyNinja customer, find out how to Embed a Virtual Tour Into Your Listing here.
---
4- Embeddable Widgets & Videos
Are you working on your email marketing strategy? Perhaps you should embed your email list opt-in forms right into all of your listings to help attract new subscribers. Maybe a rent payment calculator widget would be beneficial on certain listings. Or maybe you just want to include your custom personal welcome video on every one of your listings. I think these are all great ideas and encourage you to try to embed some creative media into your real estate listings to make them more engaging and bring them to life.
If you are a RealtyNinja customer, find out how to Embed a Widget or Video Into Your Listing here.
---
5- Floor Plans & Feature Sheets
Although a great listing description is extremely important, the technical aspects of a listing are also valid and important. Each of them serve their own purpose, and shouldn't be mashed up together. The descriptive details of a listing are painting visuals in the readers mind, whereas the floor plans and feature sheets (to some degree) are detailing those visuals with data and information. Consider a circle. A simple shape. Now imagine the description of a circle. Not as simple, but equally as important.
Your Floor Plans & Feature Sheets allow you to detail (with a certain degree of style) the technical specs of the property and land you're listing. This is important information to the potential buyer and any technical PDF documents you have relevant to the listing should be attached to it!
If you're a RealtyNinja customer, find out how to add Floor Plans and other PDF Files to Your Listings here.
---
6- Listing Syndication
When you're publishing your listings to MLS originally, make sure your listing is being syndicated across a number of listing channels and 3rd party networks. Be selective, or don't and just go for all of them. But a warning to the wise, don't bite off more than you can chew. You will need to maintain the listing on each of these networks, and make sure it's updated if they don't auto-update. The more you put yourself out there, the greater chance of discovery but also the greater responsibility.
---
7- Lead Capture Functions
If you're a RealtyNinja customer, you're in luck. Your listings all have 2 types of contact calls to action. One at the top right of the page and another along the bottom. Using these buttons and forms, your visitors can directly contact you to request more information or request a showing of a specific listing. Check out how this lead generating function works on RealtyNinja websites here.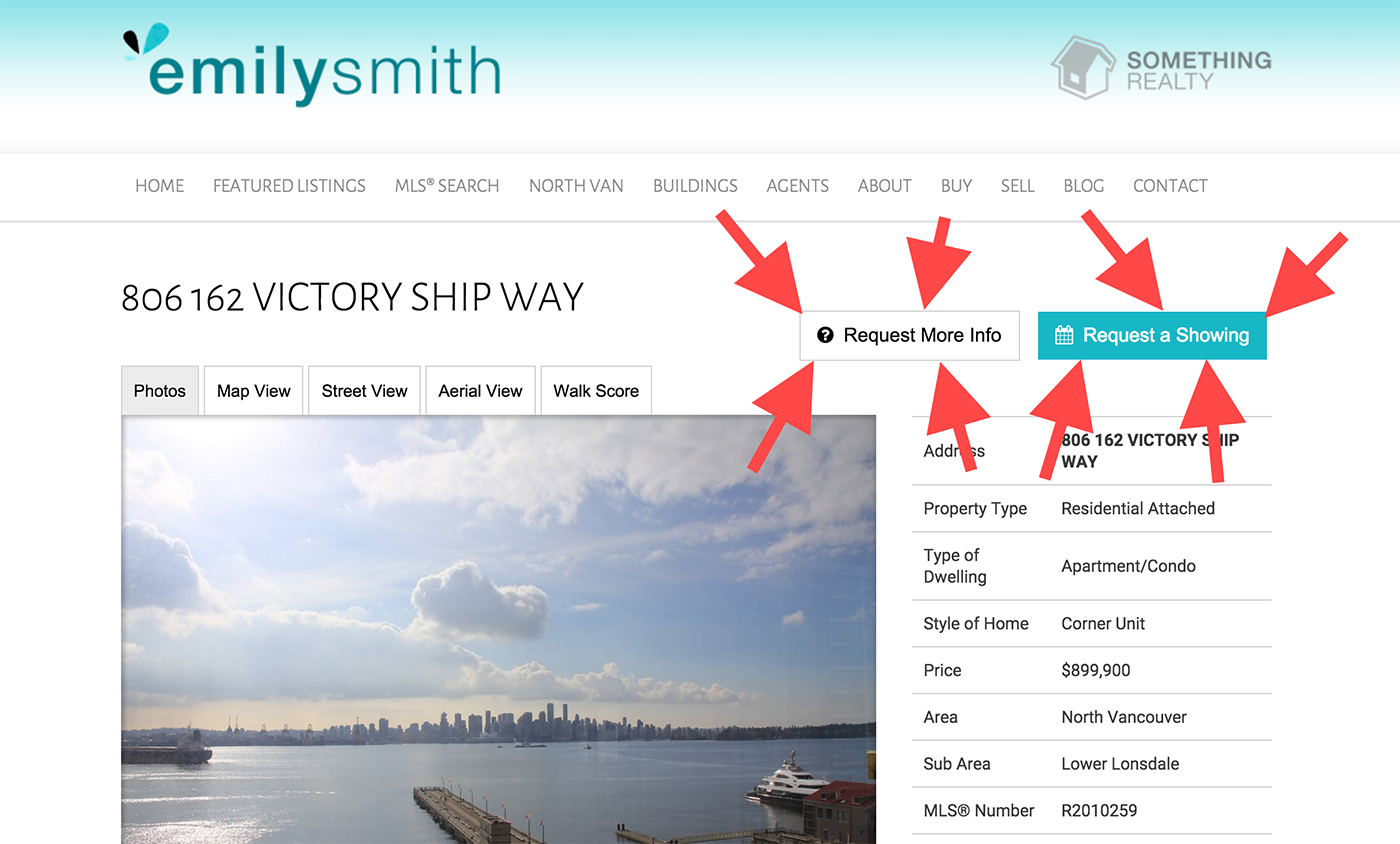 This is a vital component to every REALTORS® online marketing strategy whether they know it or not. Make sure you have easily accessible lead capture functions on every one of your listings. If your website provider does not provide any call to action functions for listings… well Yikes. You could be missing out on a lot of potential business. People want a path of least resistance online and it's not hard to give it to them, just takes some strategic planning.
---
8- Promote Online
Once your real estate listing has been sufficiently optimized on your website, it's off to the races. Start promoting your listing creatively through online media. Send it to your email list, blog about it, post on your social networks, set up keyword targeted AdWords campaigns. Go nuts, but do it right. Don't fall into the same habit that so many other real estate agents do…. sharing listings with no creative or personal touch to it isn't going to do you any huge favours. You're going to need to find ways to repurpose your listings as content that other people care about and that represent your brand. You needing to sell a listing isn't enough of a draw for people to check it out, you need to give them more if you want any real attention from the internets!
Much like with a photographer, I would recommend working with a professional marketer and advertiser to help you achieve the best results on social media. Some people have been working in social media with REALTORS® since the beginning of social media! Some people are just better at it by nature because they like doing it – this passion alone could be the separating factor between 2 and 10 leads a month. If you don't enjoy it or don't get it, or feel like a "tech dinosaur", then don't force it. Do what you do best and leave the tech-y stuff to the experts.
---
I hope this week's Dojo article helps inspire you to start making some tweaks to your real estate listings right away. And I look forward to hearing your positive feedback when you do make some of these changes! Thanks for continuing to read The Dojo, and have an awesome weekend!
Until next time, Ninjas. [-_-]~~