Stand out Without Breaking the Bank or Reinventing the Wheel.
Our Design Ninjas start with a pre-made design from the collection below, then we professionally customize it to match your specific brand, content and goals.
Prices shown are paid one-time (taxes extra). An interest-free payment plan is available by request, and allows you to make 6 equal payments over 6 months.
The Semi-Customized Design Process
Here's how we'll make you look great online.
1

Pick A Starting Design

Choose from one of the options above as the starting point for your order.
2

Fill In An Order Form

Answer a few simple questions about your brand, content, files, etc.
3

Review Requirements

Confirm your order details with our skilled Design Ninjas.
4

Secure Payment

Pay the one-time fee for your design customization service.
5

Mockup Magic

Our Design Ninjas get to work, and provide you with a mockup for review.
6

Design Live!

Once you approve, the new design goes live on your RealtyNinja site!
How much customization does this service include?
Our semi-customized design service includes up to 10 hours of our Designers time. You start by choosing one of the pre-made designs above then telling us about yourself, your business and your website goals (via forms that will be provided to you upon ordering). Our Designers will use the design you choose as a starting point and professionally tailor it to suit your specific brand, content, style and goals. This is a great option for agents that are looking to stand out without re-inventing the wheel or breaking the bank.
What if I need more design time for my order?
In most cases our Designers will achieve what you want within the allotted amount of time, but if your order requires more you'll be provided with a time and cost estimate. We will work closely with you to understand your specific project requirements before starting. Additional design work is quoted hourly.
Is there a payment plan available?
An interest-free payment plan is available by request, and allows you to make 6 equal payments over 6 months.
How long does the whole process usually take?
Once your order has been submitted and paid for, you'll see the first mockup within 2 weeks, typically sooner. You'll be able to provide feedback and change requests to your design until its just right. We have some of the fastest turnaround times in the industry!
What if I don't have an existing brand?
No problem! Whether you have a well-defined brand or not we will be able to personalize your website to meet your needs.
What are the full terms (payment, copyright, ownership, etc.)?
Can I provide my own design concept to be implemented?
The semi-customized route starts with pre-defined designs from our collection, but if you have a design in mind already in some cases we are able to find a solution that saves you both time and money. Get in touch and send us the design you're looking to use and we can let you know. Note that some design requests go beyond what our platform is capable of producing (especially if you have very complex and specific needs) or may require our fully-customized design service.
What if I don't like any of the options as a starting point?
Contact us and let us know what you're looking for! We'll help you out.
What if I want something more custom?
What do you need from me to start?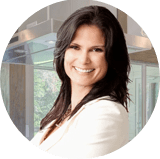 "I have been with RealtyNinja since the early days of them starting up. I have never been disappointed that I switched to them. Their customer service is fantastic and they really listen so that you get the right results. If it isn't what you want the first time they work with you until it is. As for their websites, the backend is very easy to navigate which saves me a lot of time and effort. I highly recommend using these guys!"
Michelle Vaughan, REALTOR®