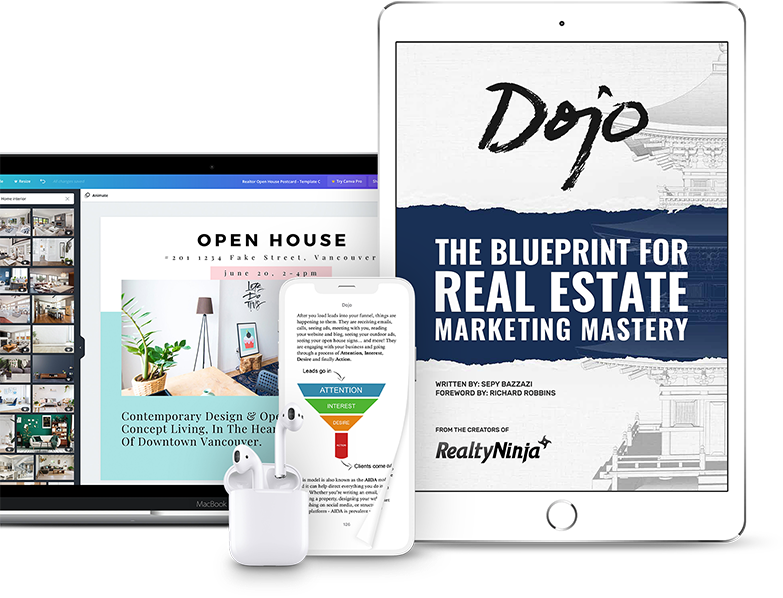 Included in this real estate marketing bundle:
$4,125 Value *
$99 CAD
One-time, taxes included.
Buy Now
* Includes thousands in discounts, vouchers and deals!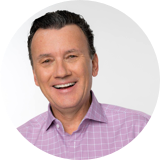 "Dojo - The Blueprint for Real Estate Marketing Mastery offers a complete catalog of industry advice dedicated to helping real estate professionals build their best business. From branding tips to digital dominance, Sepy chaperons the reader on a comprehensive tour of the real estate industry. Whether a real estate professional beginning their career or an established agent dedicated to refreshing theirs, Dojo - The Blueprint for Real Estate Marketing Mastery is a tool capable of inspiring transformative results."
Richard Robbins, Co-Founder & CEO - Richard Robbins International
Real Estate Marketing E-Book
This 140-page ebook will be your go-to guide when making real estate marketing decisions. In 19 chapters we cover everything including branding, target market, websites, CRM, email and so much more.
MOBI Format for Amazon Kindle
EPUB Format For Kobo, Apple Books, NOOK, etc.
PDF Format For Every Device
Sample Pages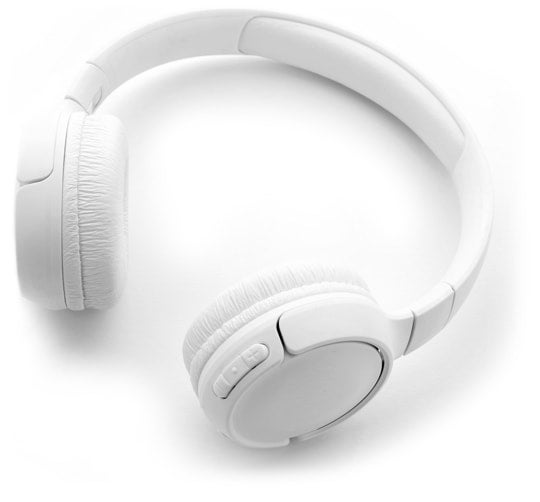 Audiobook
Do you absorb & learn better by listening? Then the audiobook is perfect for you! You can listen to each chapter individually, or put on the entire ebook for one 3 hour real estate marketing session.
Video Interviews
Learn real estate secrets from notable experts! Watch over 4 hours of exclusive video interviews with 6 awesome experts in the real estate industry. Each interview covers a completely unique topic, so there's a ton to learn!
"What you've done in Dojo - The Blueprint for Real Estate Marketing Mastery, that is a labour of love. If anybody is not yet convinced they should have it, they should go and check it out. It's probably the best resource I've seen in all of my years when it comes to digital marketing in real estate."
Simon Bray, President of REW.ca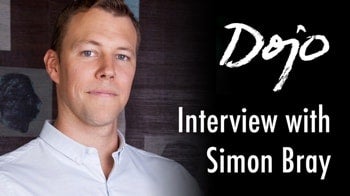 President of REW.ca, the leading real estate marketplace and information hub in BC and Ontario.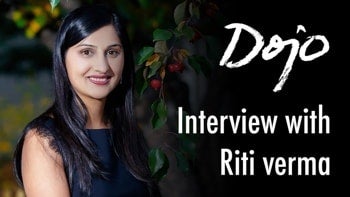 CEO & Founder of RankMyAgent.com, the number one online review platform in the real estate industry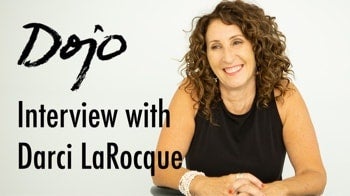 CEO & Founder of Darci Talks and Darci Training, she is recognized as one of the top educators in Canadian real estate.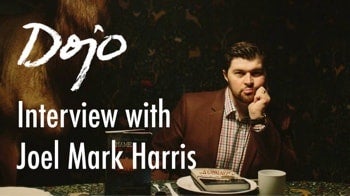 A published author and award winning copywriter based out of Vancouver, BC.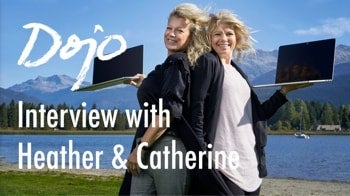 The founders & team behind Keep it Simple Social Media, and instructors at the Real Estate Board of Greater Vancouver.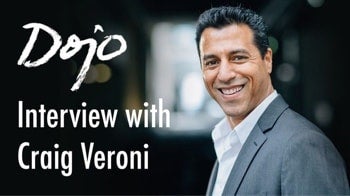 Award-winning Canadian REALTOR® in Vancouver, recognized as a top 50 Real Estate Video Influencer in North America.
Marketing Add-Ons
Brand Guidelines Document (16 Page Canva Template)
More Resources & Customizable Templates:
Brand Positioning Chart (Printable PDF)
Additional Marketing Channel Checklist
Canva Templates For Real Estate Agents & Teams
We've professionally created 17 Canva templates for your real estate business, and they each come in 3 distinct styles (for a total of 51 templates). You can easily adapt them to match your own brand and content. Everything is fully editable!
Tri Fold Brochure
Presentation Folder
Listing Sheet
Just Listed Postcard
Just Sold Postcard
Open House Postcard
Open House Sign In Form
Thank You Card
#10 Envelope
Business Card
Letterhead
Notepad
Facebook Cover
Instagram Story
Instagram Post
Facebook Post
Zoom Background
What's Canva?
Canva is a graphic design platform that allows you to create social media graphics, presentations, posters, documents and other visual content. It is available on web and mobile, and integrates millions of images, fonts, templates and illustrations.
Can I use these templates with a free Canva account?
Yes! You can modify these templates with a 100% free Canva account.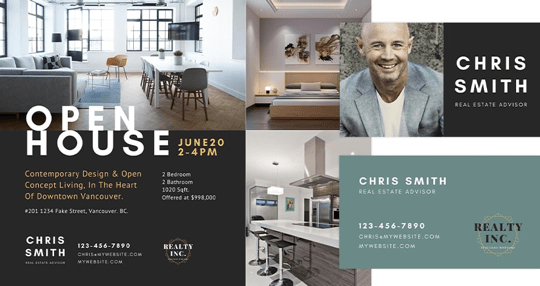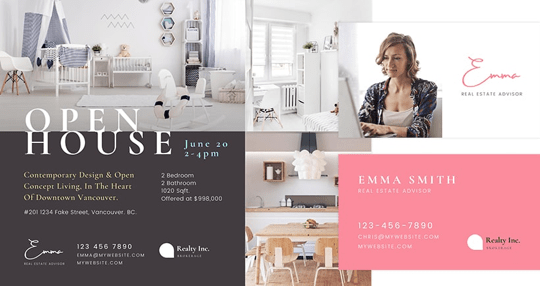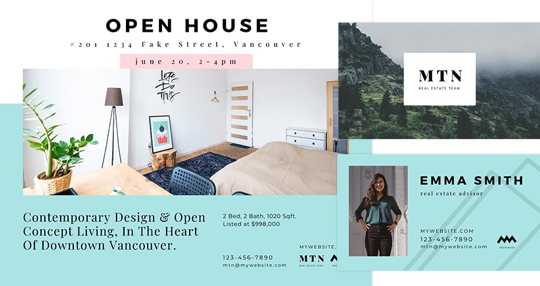 Huge Discounts, Vouchers & Deals!
In case everything else we've included is not enough, you'll also find thousands of dollars in vouchers inside this package! You'll find deals for everything from real estate branding to signage and even social media marketing!
$250 OFF Personal Branding from Agent Makeover
Three Free Months of REW.ca Market Pro
BONUS:

MARKETPLACE
 ACCESS
When you purchase this package, you officially became a RealtyNinja customer - and being a customer of ours means you now have access to the thousands of dollars in deals and offers found in our Marketplace.
One Low Price For
The Full Package
$4,125 Value *
$99 CAD
One-time, taxes included.
* Includes thousands in discounts, vouchers and deals!
E-Book (140 Pages)
Audiobook (3+ Hrs)
Video Interviews (4+ Hrs)
Marketing Templates & Add-Ons
E-Book Companion Guide
Customizable Canva Templates (50+)
Huge Discounts, Vouchers & Deals!
Access To The RealtyNinja Marketplace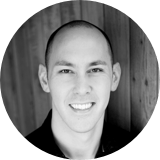 "I am so impressed with your ebook. You've pretty much covered everything I can think of that a new or a veteran REALTOR® would need to know in order to put together a complete business plan for themselves. So much good content. I found it not just an e-book but also a guide to help to create and keep a business plan on track."
Neal Uchida, Managing Broker at Blu Realty
I'm an agent outside of Canada, is Dojo still applicable to me?
Absolutely! While RealtyNinja websites are built for Canadian agents, Dojo is a product created for agents anywhere in the world. Some of the vouchers and deals might not be applicable to agents outside North America, but that's the only exception. Everything else in this package can be used by English-speaking real estate professionals around the globe to grow their business.
How is Dojo delivered to me after my purchase is complete?
You will receive a .zip file that contains a file called "START-HERE". Extract the contents of the .zip file to your laptop or desktop computer. Then open the "START-HERE" file (it will open in your default web browser) and scroll down to get access to all the files. There will be links in that document to download the ebook, audiobook, templates and everything else we've promised!
Am I able to use Dojo on my iPhone, Android, or other smartphone device?
Many of the elements in this bundle function flawlessly on any smartphone, for instance the ebook, the audiobook, and the video interviews will all load and work perfectly on your iPhone, Android, etc. Other elements, such as the customizable marketing & design templates can be opened on your smartphone, but require a laptop or desktop computer to modify. Newer smartphones are even able to extract .zip files, at which point the files found within will have no problem loading on a mobile device. That being said, we highly recommend downloading Dojo and extracting it onto a Laptop or Desktop computer first, then sending the files to your smartphone, tablet or e-reader for the best possible experience.
Who do I contact if I have a question about Dojo?
RealtyNinja has a dedicated support team who is here to help you navigate and get the most out of our products. Support for Dojo is available via email, so please contact us at support@realtyninja.com should you have any questions or comments.
I want a copy of Dojo for each of the agents at my brokerage or team, do you provide bulk pricing?
If you're trying to order more than 5 copies of Dojo for your team or brokerage, we can work out a bulk pricing discount for you based on quantity of your order. Please contact us at support@realtyninja.com for details. If you're ordering 5 or fewer copies of Dojo, please use the standard order form on this page.
When you purchase Dojo - The Blueprint for Real Estate Marketing Mastery, you are ordering it through a website called Gumroad. Gumroad is a simple commerce platform that facilitates the sale and delivery of digital products such as Dojo. We chose Gumroad because they provide a seamless checkout and content delivery service, and they are the leaders in their industry.
Why am I paying in USD if I'm in Canada?
Basically, because Gumroad processes all transactions in USD. Even though you're being charged in USD, you are paying the equivalent of $99 Canadian (CAD) for Dojo when you purchase. Gumroad uses real-time exchange rates to convert purchases to USD before processing the payment.