Give 10% off, Get 10% off!
Give a friend 10% off their RealtyNinja subscription, and receive 10% off for yourself as soon as they launch their website! Refer 10 friends to RealtyNinja and your website becomes 100% free! Sign up today and launch your website to get your unique referral link.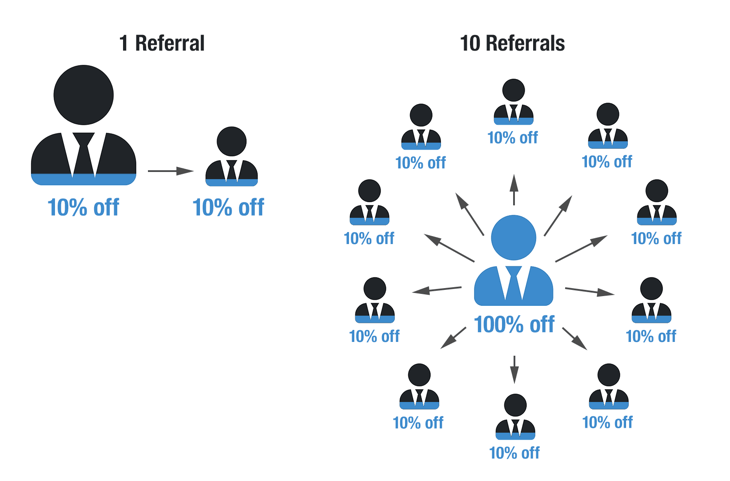 The fine print
This is a "Give 10% off Get 10% off" program. When you refer a friend to RealtyNinja, your friend gets a 10% off coupon code to use when they launch, and you automatically get 10% off when your friend launches as well.
This program is for paying customers with launched websites or IDX accounts only. Trial accounts are not eligible. Once you've launched you will see a new section in the backend of your account (Under "Account > Referral Rewards") which contains your referral program widget.
Once you're a paying customer, you will have your own unique link to share with friends. This link will be associated with your account and must be used by your friends in order to receive discounts. Your friend must also enter the coupon code presented to them when paying to launch their account.
Discounts are stackable, starting at 10% and going up to 100% off. For example, 3 friends = 30% off, 10 friends = 100% off.
Discounts get added and removed automatically. If your friend cancels their account then you lose the 10% discount associated with that friend.
Discounts are revoked after 2 weeks if subscriptions expire. If expired accounts are unable to re-activate within a 2 week period they will lose all discounts associated with the account permanently.
Discounts are not transferable between accounts under any circumstances. If an account is disabled all associated discounts will expire. This includes migrations from one account to another.
Self-referrals are possible. Use your own unique link when signing up to claim subsequent discounts on your current and new accounts.
After reaching a 100% discount you can still refer friends in order to create a "buffer" for discounts, but you will not be paid for referrals. Please consider our affiliate program if you're interested in making money selling accounts.
Referral discounts are only applicable towards recurring subscription fees, and not one-time fees (such as design services).
This program is effective from April 8, 2019 and does not include prior referrals. Only new accounts created after this date are eligible.
Existing coupons/discounts are not affected by this program and will stack. If you have an existing discount it will be combined with any discount from this program, which may result in you getting a 100% discount before referring 10 paying accounts.
This program is limited to Listings-Only (IDX) accounts and full website customers using a katana theme (our newest theme platform). If you are using our older themes (such as Shinobi, Element, Classic, etc.) this program is not available and we recommend that you upgrade your website to Katana for free. By default, agents that signed up after December 2017 are all using a Katana theme. If you're not sure what theme your website is using you can always contact us at support@realtyninja.com.