Unleash Your Real Estate Websites' Full Creative Potential
Hand-crafted design as unique as your business. For agents looking to create a truly exceptional first impression. Sign up to get started.
The Fully-Customized Design Process
Here's how we'll make your vision come to life.
1

Understanding Your Needs

Answer a few questions about your design and website requirements.
2

Reviewing Your Needs

Talk to our Lead Designer to go over your needs in detail.
3

Confirm Cost & Timeframe

Confirm all the details and securely pay for your design project.
4

Mockup Magic

Our talented Ninjas get to work, and provide you with a mockup for review.
5

Design Revisions & Approval

Work closely with our team to make sure it's just right.
6

Design Live!

Once you approve, the new design goes live on your RealtyNinja site!
How much does this service cost?
Our fully-customized design service starts at $1500+tax but is quoted based on your specific needs. We will be able to give you an accurate time and cost estimate once we receive your order.
Is there a payment plan available?
An interest-free payment plan is available by request, and allows you to make 6 equal payments over 6 months.
How long does the whole process usually take?
Once your order has been submitted and paid for, you'll see the first mockup within 2 weeks, typically sooner. You'll be able to provide feedback and change requests to your design until its just right. We have some of the fastest turnaround times in the industry!
Is this a fully custom website? Which parts of the website can be customized?
Designs are based on our website platform and its underlying functionality. This means that we don't design and develop your website "from scratch". You start by telling us about yourself, your business and your website needs. Our Designers will then professionally tailor our platform to suit your specific brand, content, style and goals. The pages on your website are composed of various "widgets" which are essentially like lego blocks. Our Designers will customize the design of your website using these widgets, along with custom code and CSS styles as required. Widgets with advanced functionality (such as an MLS® Search Widget) are pre-designed but can be customized to suit your needs (for example colours, fonts, etc. can all be changed to match your brand).
What if I need a fully custom website?
Because of the nature of a website platform (as apposed to a fully custom developed website) we will need to understand your requirements and let you know if we can achieve what you're looking for. Most things can be done with a bit of design magic and custom code, but some requests are technically not possible with our platform. Simply get in touch with your project needs and we'll help you out!
What are the full terms (payment, copyright, ownership, etc.)?
Can I provide my own design concept to be implemented?
In short, it depends. In most cases we are able to implement your general design, but we need to see the design first. Some design requests go beyond what our platform is capable of producing, especially if you have very complex and specific needs. Get in touch with us and we'll let you know!
What if I don't have an existing brand?
No problem! Whether you have a well-defined brand or not we will be able to personalize your website to meet your needs.
What do you need from me to start?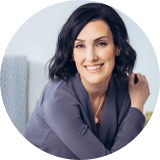 "My experience with Realty Ninja was exceptional. They really understood exactly what I wanted and made suggestions to make sure I maximized the effectiveness of my website. They were very responsive and exceeded my expectations. From the design to the execution of the smallest details, they had it all taken care of. I would recommend RealtyNinja to any agent looking for a seamless experience. Thanks RealtyNinja!"
Kindra Sowden, REALTOR®