We wrote our first article on email marketing back in March 2014. Since then a lot has changed in the world of email marketing. Mailchimp is no longer the only good option and email marketing itself has evolved. Continue reading for our updated take on email marketing for REALTORS®.
Email Marketing For Real Estate
Deciding where to invest marketing dollars isn't a decision real estate agents take lightly.
You know you need to attract new buyers and sellers and keep existing clients coming back, but you can't afford to invest time or resources into something that isn't going to deliver results.
These days, online marketing is where it's at when it comes to reaching your potential clients. We understand the appeal of writing off email marketing in favor of social media, however studies show that email marketing for real estate agents is still one of the best ways to grow your real estate business!
Each marketing channel will target and engage your audience in different ways. There's not necessarily one channel that's more effective or worthy of your attention, but when you combine each channels' powers and use them in tandem… *chef's kiss.*
Why Use Email Marketing For Your Real Estate Business?
Real estate emails are one of the most effective ways for you to foster and nurture a relationship with your potential clients and previous buyers and sellers. Here are some ways it makes marketing your realty business easier than ever before:
Generate leads. Not everyone who joins your email list will be ready to use your services, but they have shown interest by giving you their contact information. Your emails give you the opportunity to boost your credibility and nurture your relationships by sharing helpful and informative content. After all, people do business with people they know, like, and trust.
Stay top of mind. Email offers the opportunity to send out regular updates about your real estate business, promote new listings, and keep your subscribers updated on market changes – effectively keeping your real estate business top of mind.
Target your messaging. You can create individualized content based on segmenting your audience so you send the right emails to the right person. For instance, perhaps you want to send a real estate email campaign to inform buyers on new detached home listings, while not bothering first time homebuyers who are only looking to buy condos. Dividing your audience helps ensure you keep people engaged with content that's relevant to their needs.
Personalized emails. Personalization can be as small as including a contact's name in the email. In fact, emails that include the first name of the recipient in their subject line have a higher clickthrough rate than those that don't. This is a great point to keep in mind to increase your engagement!
Real estate email automations. Need to do more for less? You can use automated emails to reduce manual workload by sending automated:

Welcome emails
Resource lists
Blog roundups
Market updates

Cost effective marketing. According to Litmus, real estate email campaigns are seeing a return on investment of $36 for every dollar spent. That's higher than any other digital marketing channels, like pay-per-click and social media!
The Benefits Of Using An Email Marketing Tool
In 2014, we wrote an article that highlighted MailChimp as our favorite email marketing software. It's still a great tool to use, but now there are plenty of other real estate email marketing services to choose from. Regardless of whether or not you use MailChimp, we still highly recommend finding an email marketing tool that works for you because it makes sending your real estate marketing newsletters and email campaigns a breeze.
There's no shortage of what these email marketing tools can do; it just depends on what you're looking for. Many provide your real estate business with a newsletter signup integration on your website. With this, you can send regular updates and announcements to your subscribers to keep them informed about your services.
Most email marketing tools also provide comprehensive reports on every email you send out to your subscribers, allowing you to manage your various campaigns and execute design/setup changes as you see fit. You can then take this information to inform and optimize your email marketing strategy. The more accurate your perception of what works and what doesn't, the less time you'll waste experimenting with email campaigns that end up flopping.
Having said that, let's take a look at some of the most popular and best real estate email marketing service providers and how they stack up against each other.
7 Best Email Marketing Service For Real Estate
Active Campaign is a bit on the pricier end – but it knocks every feature out of the park. Not only does it offer key features you need for real estate email marketing (drip campaigns, segmentation, analytics, etc.), it also provides greater flexibility and control than some of its competitors.
For example, its automation setup is exactly what we'd want to see in an email marketing tool and then some. Create your own triggers for automated messages, and Active Campaign will have you covered so you don't have to lose time manually responding to every individual request.
They also offer the ability to segment your audience so you can customize your content and send emails that are tailored to what your contacts want to read. This makes each email feel personalized, which leads to more engagement.
They also offer comprehensive analytics on past campaign's stats that you can use to inform future campaigns. Stats such as open rates or link clicks tell you what's working and what isn't, so you'll have the data to back up what's resonating with your audience.
You'll also be able to track the complete lifecycle of every lead which is a very appealing value proposition. From where the lead came from to what email in the drip campaign they responded to, these are all valuable insights to take away.
Overall, while some may argue that ConvertKit has similar (or even the same) functionality as other solutions, there's one key difference to keep in mind: it's easy-to-use, straightforward, and intuitive, making it a great option for beginners.
A big pro for this software is that it's designed to make everything easy, the way it should be – especially for real estate agents who don't want to waste their time with the technical things and want to focus on more important things like sending out real estate email campaigns.
Similar to what other email service providers offer, you'll also see automations and segmentation in ConvertKit. However, if you want to create simple automations that are based on a few behaviors, ConvertKit is your best bet because it has a robust yet simple automation tool.
They offer 6 different automation templates – more than enough if you're starting out in the real estate space – that can be customized to things like announcing new listings, re-engaging past clients, and personalizing content based on how your subscribers answer a question. You can get great sequences/segmentation up and running quickly – and most importantly without the hassle.
Follow Up Boss is a great choice for top agents and growing teams, especially those who use multiple lead sources and other tech tools that they want to integrate. It's mainly a CRM but also offers some great email marketing tools. Whether you're on the lookout for a new CRM or just looking to upgrade your email marketing software, Follow Up Boss is a great choice.
As its name suggests, this software is great for following up with people so you don't fall behind or miss any messages. Their drip campaign functionality is one of our favorites! (A drip campaign is an automated sequence of pre-written emails that are sent to existing and prospective clients and are great for automating repetitive follow ups. They can be sent over time or based on a specific action to encourage interaction and maximize engagement – super useful for agents!) You can create your own personalized drip campaigns which consist of a mix of emails and tasks that help you stay in touch with leads to close deals.
For example, if you want to engage with brand new website leads, you can integrate Follow Up Boss with your RealtyNinja site so new leads automatically trigger a drip campaign the second they hit your system. From there, it will automatically send them an introduction email and you'll get a notification to call them. The next day it will send another email to gauge if they're still interested. The third day, you'll get a task to call them and so on. This is all customizable so you can write your own personalized emails and set the schedule that makes sense for you.
You can also integrate it with your RealtyNinja website – all it takes is 3 easy steps! This guide will walk you through the necessary steps to get it all setup.
Benchmark is one of the more complete email marketing solutions we've seen. While other platforms might offer extra features like site builders or CRM platforms, Benchmark focuses on doing one thing and doing it well: email.
Their software uses cutting edge tools like AI-powered Smart Sending and built-in machine learning technology so your reputation stays in tip-top shape and more of your valuable emails are delivered to your contacts' inbox.
They're best known for their segmented list-based automation. Their drip campaign tool allows you to send real estate emails based on user activity. For example, you can send different follow-up emails based on if your email was opened or if a certain link was clicked.
Benchmark also offers a free plan which includes a library of templates and a lite version of their automation feature. However, it's important to keep in mind that there's an additional charge for image hosting if you exceed 10MB on the free plan or 10GB on a paid plan, which is very easy to do if you upload a lot of high-res images of properties!
Drip is a relatively new and comparatively advanced email marketing provider and offers features that are perhaps better suited for someone more comfortable with email marketing.
While it offers the same automation, segmentation, and analytical features as all the other platforms we've mentioned, the biggest differentiator is that it has a bit of a DIY philosophy. That's okay for some people, but may be a dealbreaker for others.
They have 7 premade templates and the rest are basic frameworks to help you get started creating your own templates. If you have an eye for design, then their template editor is one of the better ones we've seen. You can create fairly complex layouts and customize the overall design of the email, including default font styles, colors, and button styles, so it remains consistent with your branding.
The venerable classic Constant Contact – it gets the job done and if you're comfortable with it there's not really any need to switch it up.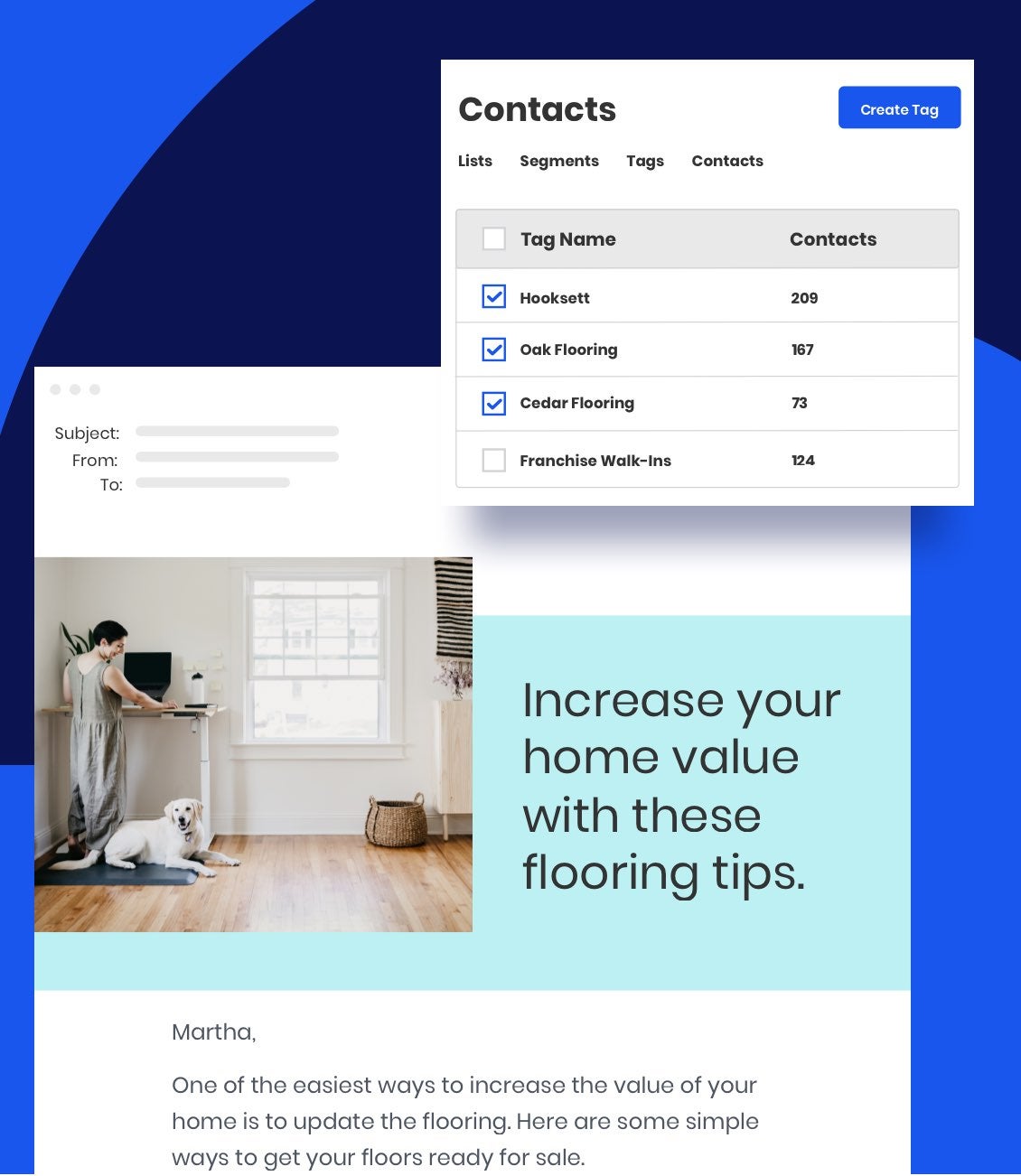 Its reporting and contact management functionalities are robust and comprehensive, but at the same time easy to understand and use. Even if you have no email marketing experience, you can quickly dive into this platform and get your real estate campaigns up and running.
Constant Contact helps you grow your real estate email list rather than just managing your contacts. This is especially useful when you're just starting out and don't have many subscribers or if you don't have a lot of time to dedicate to this area. Constant Contact has you covered and suggests actions you can take to guide you through the process rather than leaving it up to you to figure out.
We can't forget about MailChimp! Although it has more competitors nowadays, we still recommend it to anyone just starting out. The drag-and-drop email builder is probably the best thing about using Mailchimp. In a matter of seconds, you can design professional-looking emails that match your existing site design.
MailChimp's service also provides comprehensive reports on every email you send out to your subscribers, allowing you to manage your various campaigns and execute design/setup changes as you see fit.
It also gives you the ability to break down your list of subscribers and segment your audience so they only receive the emails most relevant to them.
All those features you just read about up top? That's all completely free with MailChimp under their entrepreneur plan, which allows for up to 2,000 subscribers to your real estate newsletter.
How To Pick The Best Service For You
As you can see, every real estate email marketing service is fairly similar in their offerings. So how do you choose which one to use? The good news is that it doesn't really matter – they all do the same basic things with a sprinkling of additional features.
It truly comes down to preference and your needs as a REALTOR®. Choose the one that speaks best to you and fits your budget and skill level! If you want the most advanced features, such as automation triggers and variable A/B testing, we still suggest Mailchimp. If you're a total beginner and looking for something quick and easy to jump into, ConvertKit is a great service to get started with.
That being said, here are some key features to look out for:
A good email marketing service should enable you to create highly engaging email newsletters with an easy user interface (ideally drag-and-drop editor) that creates professional emails.
They should also make it easy to manage your contact list, segment users into groups, and track the performance of your email marketing campaigns.
Don't forget the analytics! Insightful analytics help you learn valuable information, such as who's responding to which strategies and where you need to up your game.
Most importantly, the provider should ensure that your real estate email campaigns do not end up in the spam folder. You can't have a successful email marketing strategy if your emails aren't getting delivered!
How To Set Up Your Real Estate Email Marketing
It's easy to feel overwhelmed when you're just dipping your toes into email marketing. An important part about running a successful email campaign is understanding the goals of your campaigns and following a systematic process when creating your real estate emails.
In this section, we'll walk you through 4 simple steps to creating your own real estate campaigns from scratch.
1. Determine your goals
Regardless of the platform, your real estate marketing strategies will probably have one goal in mind: growing your business, whether that's by building awareness, generating leads, or driving website traffic.
Keep this in mind when creating your email campaigns. What do you hope to achieve with this email? What action does this email encourage your contacts to take? The answer to these questions will give you direction and help generate results that will have a positive impact on your bottom line.
2. Define your target audience
Sending your real estate emails to the right people will ensure they have maximum impact. This is where segmentation comes into play! Your real estate business has several types of customers – buyers, sellers, prospects, and past clients – and they each have their own, unique characteristics and needs.
To help move people through your pipeline, you should segment your subscribers for each campaign so you can send them relevant information. There's no limit to how you can tag subscribers! Some suggestions are based on age, location, home preferences, engagement levels, and online activity.
3. Choose your campaign type
There are several types of emails that brands send out to achieve specific goals – welcome emails, newsletters, re-engagement, or promotional to name a few. The type you choose will depend on your goal and target audience. Not sure what type of campaign to create? Most email marketing platforms will have templates you can browse through.
4. Design your email
Don't get us wrong, the body of an email is an important area to focus on but so is the overall design of the email. Recipients often scan information and abandon emails that aren't relevant to them or appear to be too dense. That's why having great email design is so important — if it doesn't look good, it won't have much impact.
Your email design should be attention-grabbing, aesthetically-pleasing and on-brand. Add white space and sections to let your content breathe. This helps maintain a clean and professional look, as well as makes the information easier to read.
5. Make it personal
Personalizing your real estate campaigns is a proven way to increase your open and click-through rates. Studies have shown that emails with personalized subject lines are 26% more likely to be opened than those without.
Your subscribers want to be treated like human beings with individual identities and needs. And that's exactly what email personalization allows you to do. Instead of receiving an email with generic messaging, your subscribers will receive an email that is targeted directly at them, includes their name, and provides real estate information that is relevant to their interests.
6. A/B test your emails
There's no recipe to the "perfect" email but A/B testing will help you get pretty close.
A/B testing lets you test two versions of the same email by sending each one to a small percentage of your audience. You can test subject lines, design style, images or no images, or length. By analyzing the results, you can see which version performed better and send the winning version to the rest of your email list.
Testing your emails not only allows you to improve your real estate campaigns, but also helps you learn more about your audience — what they like or dislike, and how they interact with your email – so you can optimize future email campaigns.
Real Estate Email Campaign Ideas
Email marketing is prevalent in every industry, so next time you subscribe to something take note of the emails that land in your inbox. Pay attention to the intent and frequency of the emails – it's a great tactic to see how other businesses structure their email marketing campaigns!
A drip campaign's primary goal is to nurture subscribers, deliver highly relevant content and, essentially, move them through your pipeline.
The unique thing about drip campaigns for REALTORS® is that they aim to anticipate and follow the user's actions through automated workflows. They're perfect for automating time consuming, demanding, or manual tasks that could slip through the cracks.
For example, if someone just subscribed to your newsletter, you could have a sequence send a welcome email and after 2 or 3 days deliver the most popular content on your blog.
Essentially, they take a lot off your plate and make email marketing a lot easier!
Drip Campaigns For REALTORS®
Here are some common drip campaigns REALTORS® can use:
Welcome email
This is the first email a subscriber receives when they sign up to your email list. The goal of this drip campaign is to introduce new contacts to your real estate business and offer actionable next steps.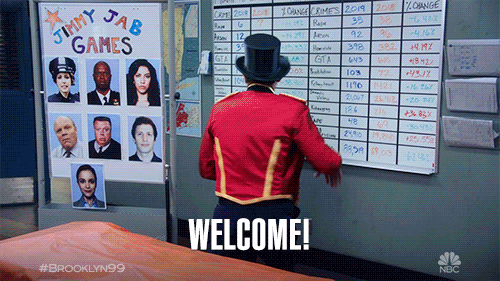 After 2 or 3 days, deliver the most popular content on your blog. A few days after that, send an email asking if they have any questions you can answer. Provide value by sending over useful resources and offer up ways they can get in touch with you.
Newsletters
These are perfect for building trust and nurturing relationships. Real estate marketing newsletters are usually non-promotional and full of industry updates, real estate resources, blog roundups, and geared more towards keeping your subscribers engaged with your business.
It's not as important to segment your newsletter audience, as the information can be useful for everyone. The benefit with these types of email campaigns is that it shows you what type of content your audience is most interested in and who your most engaged subscribers are.
Promoting listings
Have a few listings on the market? This campaign is most effective for targeting your buyer leads.
Sharing multiple listings in one email helps familiarize buyers with different types of homes that are available, all while keeping you and your business top of mind. Highlight key information about your active listings such as price, number of bedrooms and bathrooms, square footage, and address.
Bonus: link the properties to your real estate website so you can guide buyers to your own resources and gain more insight into their needs.
Drip emails in this campaign should be full of value and inform buyers on what steps to take next if they're interested.
Re-engagement
At some point, your most active subscribers are going to drop off. Maybe it wasn't the right time to work with you, they found someone else to work with, or they forgot about you. Competition can be tough in the real estate industry, so a strategic re-engagement campaign is a must.
The goal of this campaign is to target inactive subscribers to get them to engage with your brand and emails again. It doesn't need to be complicated or lengthy; it can be as simple as a "Are you still looking for ___ (enter what you sell in 2 words)?" email.
4 Tips For Real Estate Email Marketing
Send Emails Regularly
A common question real estate agents ask us is how often they should send emails to their contacts. Like most things in life, there's no simple answer to this seemingly straightforward question.
You'll want to interact with your audience often enough that they recognize your name when it pops up in their inbox. Does it mean emailing them 3 times a day? Probably not. Should you be contacting them at least once a month? Absolutely.
Any good email marketing tool will keep track of your data and help you figure out if you're over-emailing. Look at your unsubscribers. A common reason people unsubscribe is because they're getting too many emails from a single sender.
Another indicator you're oversharing with your list is a drop in your open and click-through rates. Try dialing back on the amount of emails you send or increase the frequency between each one if you're noticing a decrease in engagement.
Another sound strategy is to keep an eye on what others are doing. Sign up for a website's services and observe how many times they email you. Is it rare? Three times per week? Is their schedule seasonal or tied to holidays?
Include CTA
Every real estate email has a purpose. Whether it's to inform your list of a new listing, provide a new resource, or give a market update, every campaign needs a goal. In most cases, the goal is to get subscribers to do something.
Enter: calls-to-action (CTAs). Sending great content and hoping that a subscriber remembers you is not enough (although that helps). You need subscribers to take action immediately, and CTAs are the way to do that. Otherwise, your campaigns are just pushing resources and content at the reader but not giving them anything to do with it.
The best CTAs are more than just a bright button with catchy text. It builds off of every element of your email until it's hooked the subscriber and convinced them to click the CTA.
Think of it like a novel. First, you are drawn into the story, then you learn the premise, which ultimately builds until you reach the most important part of the story. You can't put the book down and need to continue to find out what happens next!
Include Relevant Information
Relevance is critical for a good email. Again, this is where segmenting your audience comes in handy! Knowing where each subscriber is in your pipeline will help ensure you deliver information that is relevant to their needs and interests.
We can't stress how important it is to deliver the right information to the right people. No one wants to be bombarded with emails where the content is irrelevant to them – that's a sure fire way to unsubscribe.
Educate Your Audience
The more value you can provide your subscribers, the more likely they are to engage with your emails. When that happens, it's a lot easier to get them to take the actions you want them to take.
Educational content is just one way to help you provide valuable content on a consistent basis. It could be information on how the market is performing, resources for first time homebuyers, or even FAQs. It's not just about what you can do for them as a real estate agent.
Consistently sharing this type of information will help your subscribers see you as an expert and trust your knowledge. When the time comes for them to start their real estate journey, your name will be the first that comes to mind.
---
FAQs
Why are real estate marketing lists useful?
The real estate industry isn't about how well you can buy or sell houses, it's about how well you can form and maintain relationships.
Building a real estate marketing list is crucial because it gives you an opportunity to build a relationship with potential clients in an intimate way. You're not just a post that they can scroll past; you're right in their inbox among all their other important messages from their work, family, and friends. Once in their inbox, people have the option to read your emails more than once, and even search for them again down the road.
Plus, when you build our audience on social media channels, you're building an audience on a platform that you don't own. That's kind of like renovating a home that's not yours!
On the other hand, when you build an email list it's yours – you don't have to worry about a third party changing the algorithm (we're looking at you, Instagram) or shutting down overnight. Even if your SEO ranking plummeted overnight, you'd still be able to communicate with your email list. Essentially, you're in complete control of how often your subscribers hear from you, what they read, and what your relationship with them looks like.
Not enough to convince you? With Facebook and Instagram, you're at the algorithm's mercy and are able to reach an average of 1-2% of your followers. Email isn't perfect either – 22% of emails sent get lost in the junk or spam folders. But that still leaves you with an average of 78% messages delivered!
Is email marketing effective for generating business leads?
We've already discussed how email brings a touch of personalization that other marketing channels lack. The ability to pop up directly in people's inboxes is a great way to build trust and strengthen pre-existing or new relationships!
People consume email differently and are more selective in what type of emails they subscribe to, and so one of the many benefits of email marketing is that your audience is genuinely interested in your real estate business. They're on your emailing list because they want to be there! As a result, they're often lower in your pipeline and are a warmer lead, which means they have a higher chance of turning into a client.
Email marketing allows you to give your audience value from the onset of your communication. No one likes to be sold to, but people trust businesses that provide relevant information that can solve their specific problem. A positive relationship built on providing value makes lead generation and closing deals much easier.
There you have it
Email marketing became available a long time ago, but it has proved from time to time to be the perfect option for generating qualified leads and engaging audiences.
If you're considering using email marketing for your real estate business, or are just wondering if your current email marketing tool is up to par, we hope this article sheds some light on how email marketing can make a big difference for your business.
With a solid Internet marketing plan that incorporates an email marketing strategy, you can target your ideal buyers and sellers, give them continuous updates on your business, and even send them special offers – all of which will raise your brand visibility and help convert subscribers into clients.
While all the benefits mentioned are achievable, it's important to remember to have a clear strategy and goal in place for your email marketing efforts. And finally, you need to have grit and patience for results to start showing. Never give up too soon.