Have you ever noticed that building your social media presence can feel a bit like high school? Juggling various social media platforms and keeping up with trends brings you back to trying to fit in with the popular crowd who get heaps of attention and are effortlessly cool.
Meanwhile, we attempt to make an impression but are largely ignored. Sure, there's more we can do to stand out and we're vaguely aware that there are social rules but we're not privy to them (except, of course, that "on Wednesdays we wear pink.")
Although it might be reminiscent of high school days, building a social media marketing strategy doesn't have to be a Mean Girls rerun. Like Cady infiltrating the Plastics, all you need is a good strategy.
What is a social media strategy?
If you're spending a lot of energy hoping to uncover the winning formula to make your social media posts go viral, we have some life-changing news for you.
There isn't a step-by-step plan for how to get hundreds of likes and shares on your posts. Instead, real estate agents with effective social media campaigns rely on a solid marketing strategy to stand out online and attract potential clients.
Your social media strategy is the road map that will help you reach your business goals – whether it's to generate leads, stay top of mind with current clients, or raise brand awareness.
An effective social media plan will help inform what to post, what platforms to use, and who to target. Like any of your other marketing strategies, your social media strategy is your plan of action and blueprint for how to navigate the social platforms.
While social media is a great way to show off your listings, it can be so much more! It's where you can show off your expertise and build trust – key qualities that buyers and sellers look for when choosing a real estate agent.
If you're wondering how to make a standout social media marketing plan that gets you more views and leads, check out these 23 ideas for your next real estate specific posts.
Introduce Yourself on Social Media
Think of social media as your online portfolio: it's where people go to see kind of agent you are, how active you are online, and if your personality aligns with theirs.
With this in mind, introducing yourself on social media is a great way to provide a brief overview of who you are and what you do. Highlight your areas of expertise, your professional achievements, and your passions.
The key to posting on social media is keeping your message brief and engaging. It's also a good idea to include a call to action, such as inviting followers to connect with you or visit your website for more information.
Client Testimonial / Success Stories
Buying and selling a home is a big step and, understandably, people are going to do their due diligence before making an important financial decision.
There are a lot of real estate agents out there, so where do people turn to when they're making decisions? Reviews and testimonials.
Reputation is everything when it comes to standing out from your competitors. Think about it: are you more likely to try a new restaurant if everyone is raving about the food, or if there are many complaints about the service or food? The same applies to real estate.
A great testimonial taps into herd mentality and persuades people that they do need your services. Although it may not seem like much, your plethora of glowing recommendations hold some weight.
Market Update / News
Real estate can be overwhelming for the average person, with its industry jargon and always-fluctuating market conditions. The last thing you want is for potential clients to feel overwhelmed or anxious when stepping into this next chapter of their life.
What's one way a person can feel prepared? By brushing up on their real estate news and expanding their knowledge.
Social media posts that share insight on the real estate market are a great way to position yourself as an expert in your field. It's a way for you to show you're up to date with the local area and can provide guidance on the latest trends or market activity.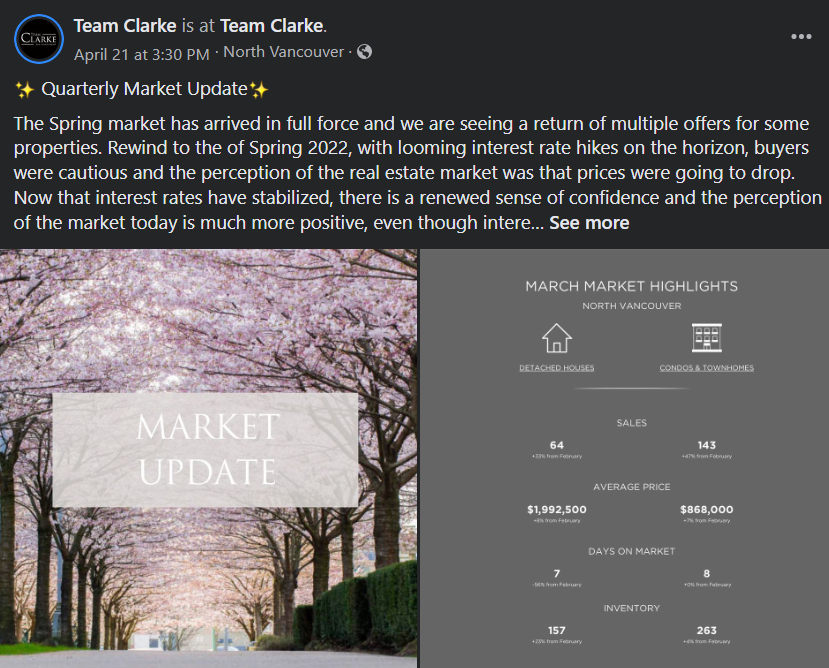 While it may not seem like the most exciting form of content to post, it's informative and reassuring to potential clients.
New Listings
People love looking at listings, even if they're not looking to buy – it's the online version of window shopping. While many of your followers will see your new listing post during their passive scrolling sesh, you never know who is going to be a little further down the sales funnel or who will become your next buyer.
Here are some tips for getting the most out of your new listings post:
Be attention grabbing. Invite engagement by asking a question that relates to the listing's location. "What are your favorite local businesses in the area? What are the best cafes in the neighbourhood?"

Share a personal story. Ex: how the in-law suite was so helpful when your kids were young or how an open kitchen makes hosting much easier.

Run online ads. Listing ads can help get your post seen by more people, plus you can target specific audiences to ensure it's being seen by the right people as well.
Price Reductions
Even in a hot market, not all properties will sell in the blink of an eye. Price reductions are an opportunity for you to reach the budget-conscious buyer who dismissed it when the price was higher.
An older or smaller property might not look too hot at first glance, however a description that hones in on its key features can have someone thinking "I want to live here."
Education for Buyers & Sellers
Be your clients' go-to resource for info about buying or selling. People want to feel well-informed and prepared about this huge financial decision and will turn to experts for guidance.
Real estate can be an industry where you don't know what you don't know. Answer your most asked questions in a post or share a list of tips that everyone needs to know. Make your social media post valuable by ensuring they answer a question. Example: When is a good time to sell your home? How do I know what to look for in a home?
Something You Love About Your City
They say that home is where the heart is, and for most people, their hometowns are an important and integral part of who they are. Sharing what you love about your city is a great way to break up all the real estate talk.
Highlight what makes it so special to you: maybe it's how the city comes alive when the sun is out, how many quaint cafes it has, or its proximity to hikes. It's a subtle way to show how passionate you are about helping clients find their new home, as well as showing your ties (and knowledge) about the place.
Open House Video Tour (Walkthrough)
Encourage more foot traffic to your open houses by talking about them on social media. Real estate is a highly visual industry, which pairs wonderfully with many social media platforms!
Open houses almost create the post for you. Showcase the best rooms and include information about the open house: address, date, time, and your contact information.
It's important to mention that not everything has to be static. Photos can only go so far, and video walkthroughs can give someone a better understanding of the layout and flow of a house.
Memes and Funny Content
Memes have become a unit of cultural currency in the digital age and can be found across all social media platforms. They're lighthearted and fun pieces of content, often featuring an image and text, intended for quick consumption.
Memes play off of content that's created by other people or rely on pop culture references. Instead of producing original content, you can riff off an existing meme by adding a new caption or relating it to your real estate business.
Tapping into funny content and memes – whether it's real estate related or not – can bolster engagement among your followers. They create a sense of belonging because everyone is in on the same joke and your audience can relate to the situation.
If you can make your audience laugh, you have the opportunity for them to share the post with their network – ultimately increasing brand awareness – or another way for them to relate to your brand.
If done consistently and well, it can contribute to your personal branding and improve your brand recall.
"Just Sold" Photos
Showcasing properties you've sold is a great way to build social proof and subtly sell your services via social media.
While you're not directly selling your services in this type of post, it still nudges prospects to contact you. It's a way to show them that you're willing to put in the grind to make sure money isn't left on the table and that you're able to find the perfect home, no matter the long list of needs.
Agent Or Team Member Feature
An agent spotlight is one of the best ways to make your business seem more personal and relatable (have you noticed a trend with these post ideas?). They should include details like their accomplishments, personality, and interests outside of work. Similar to introduction posts, it's a way for your followers to get a better sense of what working with you will be like.
Why Your Team is Different
Back in high school, many of us didn't want to be different. Whether you were too tall, too short, wore glasses or had braces, you probably wanted to fit in. In the world of social media and real estate, those who fit in have a harder time reaching their goals.
Proclaiming what makes your team different could be the very thing that gets people choosing you over your competitors, so why not make a little noise on social media?
Whether it's your understanding of the local community, your unique approach to understanding your clients' needs, or how you like to do business, these are all essential pieces to incorporate in your posts and throughout your social media marketing plan.
Personal Life Highlight
Social media started as a way to be, well, social. People are on social media because they want to make and maintain connections.
If connection is the goal, then why do people follow brands and companies? They have the same end goal! People want to stay up to date with the brand and see what their personality is and what they're like. Remember: people are more likely to work with a real estate agent they KNOW, LIKE & TRUST.
Story Time: How You Got Into Real Estate
Letting your personality and life outside of real estate show on social media is the best way to foster real connections and show potential clients who you are.
A big part of who you are as a real estate agent is your origin story! Like any good superhero story, there's a reason you got into real estate, whether it's following in a family member's footsteps or you needed the flexible hours. This story is unique to your personal brand and worth sharing online. More often than not, it speaks to your passions and offers your audience insight into what working with you is like.
Interesting Listings
We all love a glimpse into other people's lives (aka we're nosy), so why not share those unique or notable listings?
Maybe it's a home with an interesting façade or a local celebrity's home that sold. Either way, it's sure to turn heads and get some engagement on your feed!
Local Business Spotlight
Flex your neighbourhood knowledge and paint a picture of what your buyer's life could look like. Not only are you selling properties, you're also selling people a community and lifestyle.
Which restaurant has the best brunch? What bar has the best cocktails and activities? Are there any local businesses with unique services? Be sure to tag the business in your post!
Throwback Thursday
Take a stroll down memory lane with a good ol' #ThrowbackThursday. A few ways to approach this:
What the housing market was like 5, 10 or 20 years ago.

What YOU were like 5, 10 or 20 years ago.

How much the city has developed over the years.

A brief (and interesting) history lesson about how the real estate industry started.
Neighbourhood History
Piggybacking off the last idea, browse the city archives and dig up old photos of a certain neighbourhood. If possible, give a year that the old photo was taken and try to give some context as to what the area looks like now.
Contests
Social media contests are a great way to attract a wider and more engaged audience on any of your online platforms. It's important to note that for all of these contests, the success of your contest is highly reliant on the value of your prize.
High value prize = lots of entries. Low value prize = fewer entries.
For contest and prize ideas, check out this article.
Pre-sale Development Highlight
Posting about pre-sales is a powerful marketing technique in retail or ecommerce, but it can be just as effective with real estate!
Posting about pre-sale developments has the potential to:
create buzz around an upcoming property,

secure pre-sold clients who are eager to put in an offer once it lists,

create a sense of exclusivity if it's not a widely marketed pre-sale.
Home Makeover (Before & After)
HGTV has done the market research for us and we can confirm that home makeovers and renovations are super popular.
The before photo that screams "hasn't been updated or redecorated since the 70's" always has a part of us wondering: how can they possibly make this into a beautiful home? The work-in-progress photos seem like the construction is endless. But the after photo restores our faith – sometimes the relief that comes with a successful transformation is so strong it seems as if we did the renovation ourselves.
Polls
Engage your audience with a poll over on your Instagram stories. It's an easy way to learn more about where people in your audience are at on their real estate journey, but it can also be lighthearted, fun, and not-at-all related to real estate.
Take the results and feed that information back into your real estate marketing streams! If you discover the majority of your audience is looking to sell their home, start creating content that's more relevant to their needs.
Home Maintenance Tips
Home maintenance tips can benefit everyone. They're a great reminder to homeowners on monthly or seasonal tasks that need to be completed to keep your home in good condition. It also serves as education for sellers on how to prep their home to sell.
Real Estate Marketing On Social Media
Which Social Media Platform is Best for Real Estate Agents?
Different social media platforms may have an alternate approach, but they all work together to reach your target market and position yourself as an expert in the local market.
For example, your strategy on Facebook could be to nurture existing relationships, where your strategy on TikTok could be to use trends to humanize your business and build awareness. Over on Instagram your goal might be to showcase your expertise.
It seems like new platforms are popping up every few months, but that doesn't mean you need to be on all of them. It's easy to get overwhelmed with multiple social media accounts and the various types of content you should be posting.
Ask yourself: where is my target audience spending their most time online? Do I have the capacity to be posting consistently on multiple social media platforms? What platform is best suited for the type of content I want to share?
Focus on Variety & Be Your Authentic Self
Regardless of what you post on social media, it's important to remember that authenticity sells. At the end of the day, yes you're selling real estate services, but you're also selling yourself as the real estate expert who can guide clients.
People hire real estate agents that they know, trust, and like. They look for agents who share their values, who have established themselves in the industry, and who they feel drawn to.
You can foster a genuine relationship with your followers and prospects by showing up authentically. It also helps build trust, and move leads and prospects through your pipeline without you needing to do a lot of manual heavy lifting.
Be sure to post a variety of content ideas and mediums. This will ensure a well-rounded content strategy that reaches the different segments of your audience and continuously positions yourself as an expert in their eyes.
Bonus: repurpose your social media content in your newsletter, online ads, or blog.

Make Video a Priority on All Platforms
One of the fastest ways for you to increase your engagement with social media is to start using video in your posts.
Scroll through any social media site and you'll notice that video content is everywhere – and for good reason. Video content is typically picked up by most algorithms, simply based on the fact that it's able to capture someone's attention for longer than a photo.
Video content has been so heavily integrated into social media platforms and users are relying more heavily on this type of content when researching businesses. Videos allow you to explain complex concepts in engaging and creative ways, as well as add valuable context in a way that photos simply can't.
If a picture is worth a thousand words, videos are surely worth a million.
The reoccurring theme throughout this article has been the importance of humanizing your business and creating a deeper, more personable connection between you and your audience.
It's no surprise that videos can also help in that department! They're a great way to unpack your services and show the value of working with a real estate agent in a more relatable (and persuasive) way than static images.
In conclusion…
Social media is an ever-changing, always evolving creature with a mind of it's own.
It's important that you're always evaluating what you're doing, measuring the success of your strategy, and pivoting when necessary. Don't be discouraged if you haven't been "doing it right" all this time. It's never too late to get going.
And one more thing, there is nothing inherently wrong with real estate agents experimenting with what they post. If your post doesn't look or sound like anything else you've seen online, it doesn't mean you're doing something wrong! Half the battle is figuring out what will resonate with your audience.
With some practice and a long list of content ideas, you'll be ROCKING social media in no time!