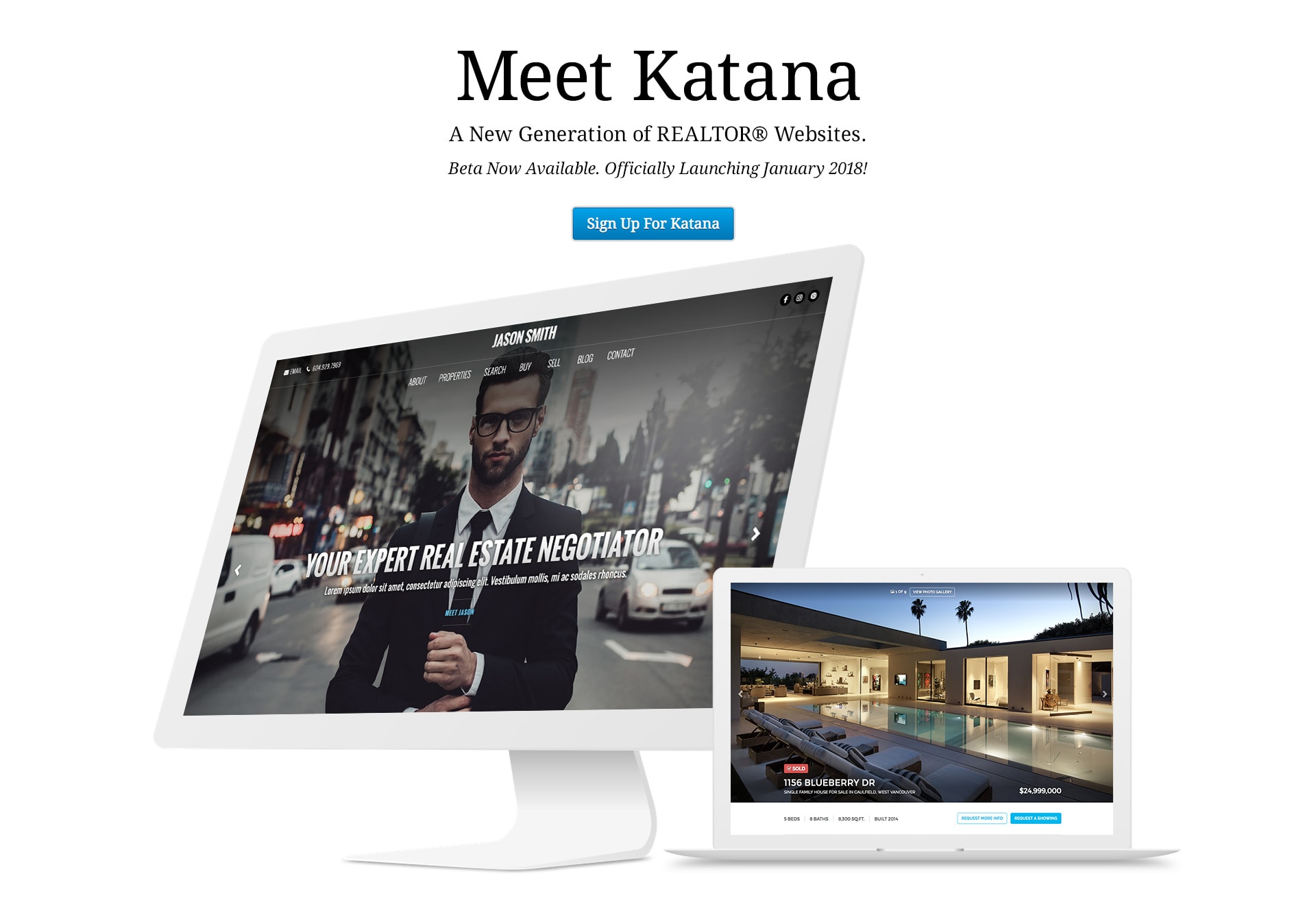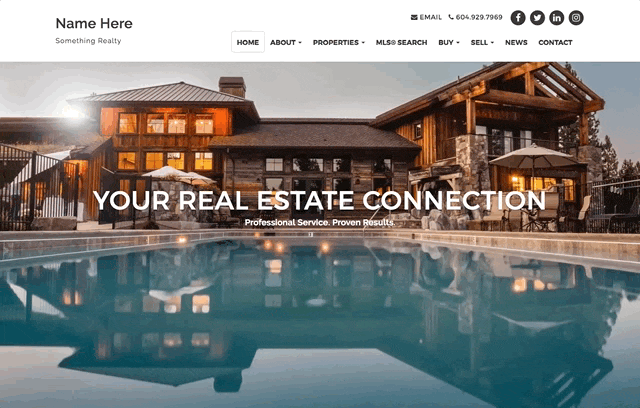 A New Way to Create Real Estate Agent Websites
Katana is a brand new theme engine built specifically for Canadian REALTORS®. It allows for total control over pages, layout and widgets and enables you to make your dream website ideas come to life.
Truly Mobile
Katana is automatically "mobile-first" meaning that the mobile experience is just as awesome as the desktop one, and not just a squished down version of the full website.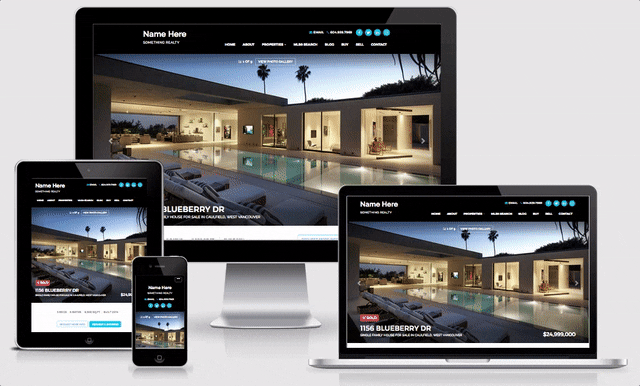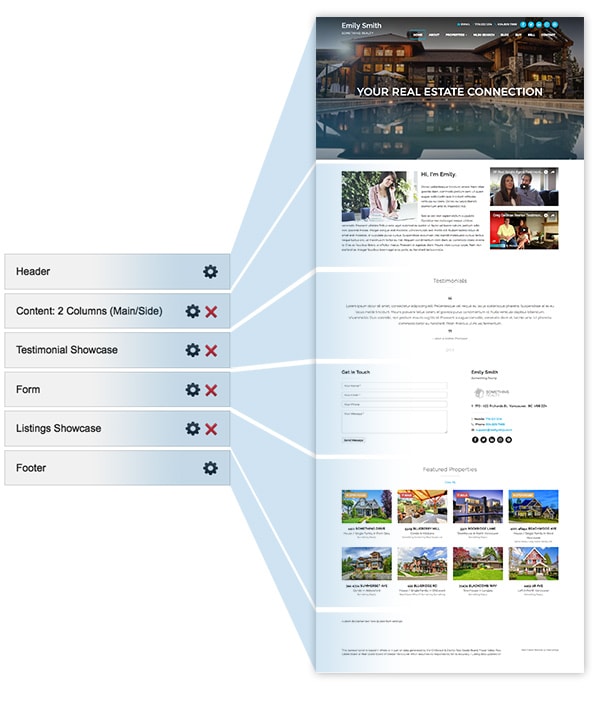 Take Control of Your Website
One of the biggest benefits of Katana (aside from how awesome it looks) is that you'll have more control over your website than ever. Within seconds, you can add multiple "widgets" to your pages, re-arrange them, tweak their settings, edit their content and more.
There are widgets for all kinds of things you need... from content areas, to listings, testimonials, recent blog posts, contact forms and more. Where it becomes really powerful is when you start to mix and match these widgets on your pages. Imagine the creative solutions this would unlock!
Semi-Custom Design Service
Starting at $449+tax, you'll be able to choose one of the pre-made designs below as a starting point for your theme customization order and have our Design Ninjas professionally customize it to match your specific brand/look. More details in the FAQ further down this page. Click on the thumbnails below for a larger preview image or click here for full interactive demos.
Need a totally custom design?
Fully custom theme customizations will also be available and start at $999+tax. They will be quoted based on your specific requirements. We'll have more info and examples in the coming weeks.
Interactive Demo's *NEW*
Click the link below to check out fully interactive demos of Katana!
Sneak Peak at Various Pages on Katana
Click the thumbnails below for a larger preview.
Note that the images above are early previews and are subject to change.
When is Katana going to be available to the early-access list?
We have already started working with the first few batches of people in our early-access list and are going to release it to more people from the list in the coming weeks. We're getting the first few websites over to Katana manually and improving the setup/migration process before we open it up to everyone in the list.
When is Katana going to be available to everyone else (general release)?
Katana will be available to everyone else right after the first 100 agents (in early-access) have been processed. To stay updated on progress please join our mailing list (at the bottom of this page), connect with us on social media or keep an eye on The Dojo.
Why does the early-access list get first dibs?
Because Katana is a fundamental change to how our websites work, we wanted to make sure that we release it in small batches so that we can work out any potential kinks before we open it up to everyone. The people that joined our early-access list were interested in trying Katana knowing that it may come with a few missing features or rough edges when it's first released.
Is there going to be an additional cost to signing up for a new Katana website?
No. We currently don't charge people to sign up for a new website, and we won't add a sign up fee for Katana either. After it's officially released, Katana will be available to everyone that signs up for a new website at no extra cost.
What if I already have a RealtyNinja website, how will migrating to Katana work? Will there be a fee?
The web pages on Katana are built using a combination of different "widgets" that can be re-ordered and personalized individually. This is quite different from how our current website builder works. Because of that, we may have to manually migrate some of your content and pages over to Katana to ensure it's done properly. There may be a small fee associated with this manual migration work, but we'll be able to quote individually based on your website's needs.
What about all the listings, buildings, searches, blog posts and other special stuff I've added to my site? Can that be migrated?
Yes. We have built an internal migration tool which will automatically migrate over these items from your current RealtyNinja site to your new Katana site, so you won't have to re-add them to your site.
What if I'm already using a customized RealtyNinja theme on my website?
Katana uses its own unique layout and format, and simply re-using your old website theme's graphics and banner images most likely won't work well. It also uses a modern, mobile-first, approach to web design which includes large photos, banners and responsive elements. Because of this, we're going to have to review each website migration as its own little project to ensure that your design looks great on Katana.
For example, say that your current RealtyNinja website has a graphic that fits nicely at the top of your homepage. The graphic includes your logo, headshot and a photo of the city. By simply using the same graphic on a Katana site, it may look blurry (because Katana uses a full-width, responsive design by default), will most likely be covered up by your navigation menu or other Katana-specific design elements, and it may not even look good because it was originally designed for something completely different.
Can I get a discount on a Katana theme customization if I've paid for a customized theme in the past?
If you've ordered a theme customization from our design team in 2016 or 2017, we'll be happy to give you a 20% discount towards a Katana theme customization.
What will new theme customizations cost once Katana is available?
Katana will have 2 professional theme customization options: Semi-Custom or Fully Custom.
The semi-custom route starts at $449+tax and allows you to choose from one of these pre-made designs and have our Design Ninjas customize it to match your specific brand or look. Basically, the design you pick would be used as a starting point but we'd add in your own graphics, photos, colors, fonts, logo, etc. This service would include up to 5-7 hours of the designers time, depending on the starting design you pick. If you needed extra design work we would be able to add that on top, estimated at our hourly rate.
The fully custom route starts at $999+tax and is quoted on depending on what you need done. You'd consult with our Design Ninjas and they would provide you with a time and cost estimate for your specific project's needs.
What if I just need a designer to touch up some of my existing graphics to work on Katana?
We'll be able to provide you with a custom quote depending on what you need done, estimated at our hourly rate.
Do I have to order a theme customization service in order to use Katana?
Not at all. Katana will look amazing right out of the box, and you'll have the ability to insert your own photos, logo, etc.. Also, there are a number of built-in theme settings and layout options that will make your design look even better. Our goal is that by simply using Katana, it will make it look like you paid a fortune for your website.
What if I don't want to switch my website over to Katana? Can I continue using your older themes?
Absolutely. We don't want to force our customers to switch to Katana, but its our job to make sure that our customers websites stay ahead of the competition and that by using Katana, you're ensuring that your website is using the latest and greatest technology available. Also, because Katana gives you (and us) a ton more flexibility, we'll be able to be much more accommodating to your change requests, design ideas and support issues.
Will you discontinue supporting older themes or features at some point in the future?
It's hard to say at this point. Website technology is constantly changing, and our promise has always been to keep our customers ahead of the pack. To do this properly, we need to not only keep up but we need to continue to innovate our software. At some point in the future it just won't make sense for us to invest in supporting our oldest themes or outdated technology. This doesn't mean that you'll be forced off of them anytime soon, but we may not be able to fulfill all requests or fix all possible issues that come up in the long-term.
We believe that we'll be able to WOW you so much with Katana that you'll want to switch on your own. Having said that, some of our older technology will be eventually phased-out in one way or another to make room for future innovation.
Questions? Did we miss something?
Please email us your questions and we'll be happy to answer them. We don't have all the details at this point, but we'll do our best. Check this page often for future updates!
Interested in Using Katana?
Join our mailing list below (if you haven't already) and we'll let you know as soon as it's ready!
Aside from Katana updates, sign up for our mailing list to receive useful modern marketing content, updates, tips, promos and freebies. We guarantee privacy, your information will never be shared, and you may unsubscribe at any time.