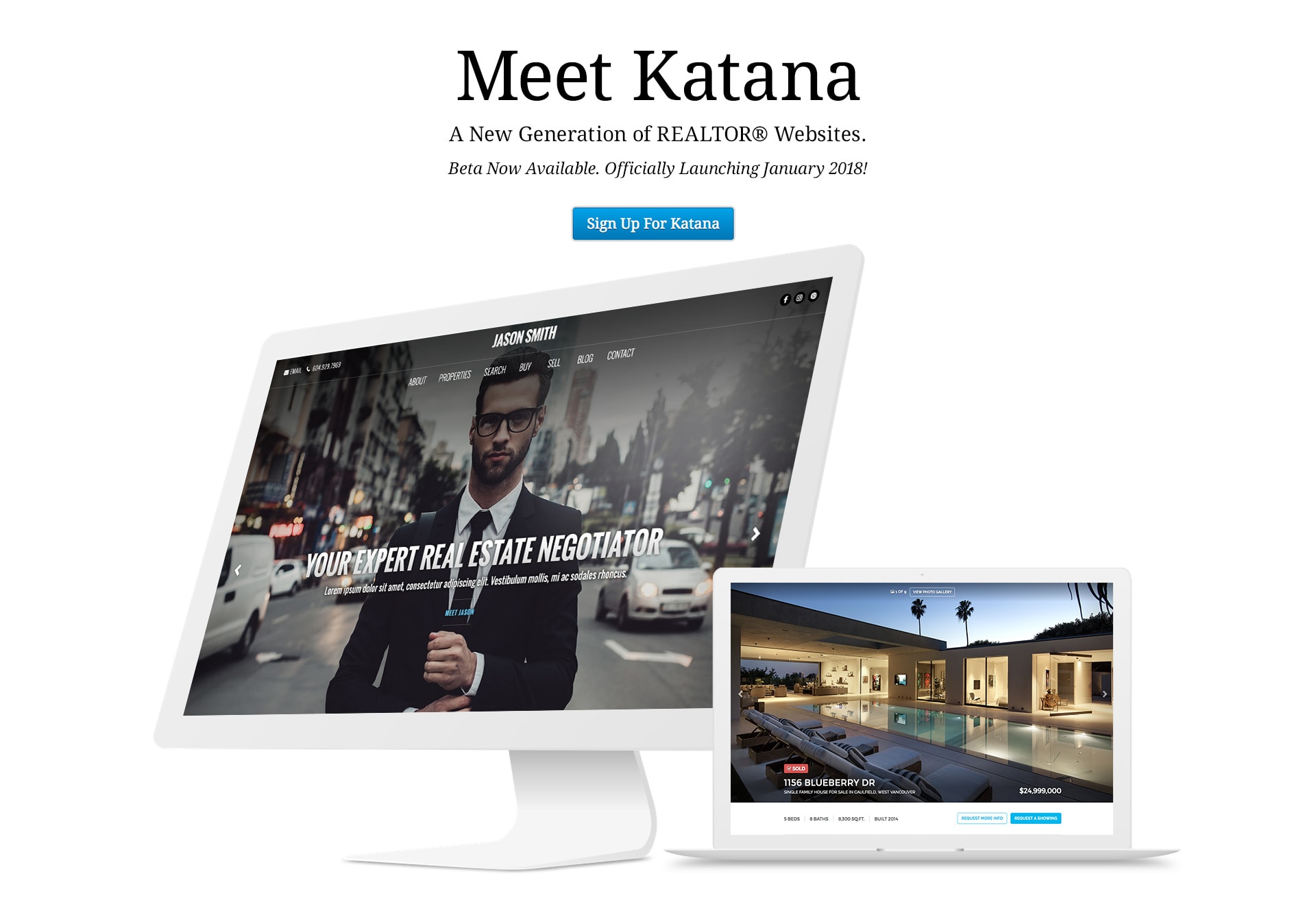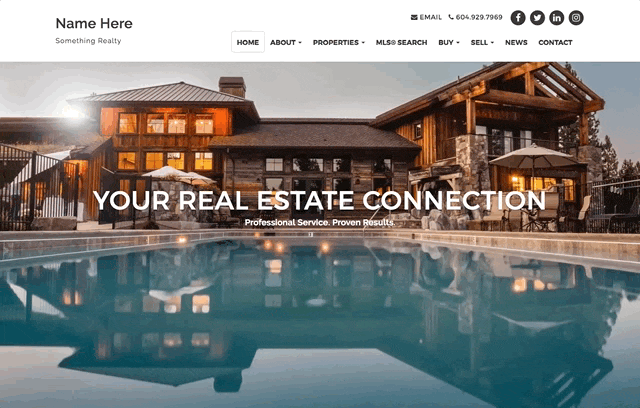 A Better Way to Create Real Estate Agent Websites
Katana is a brand new theme engine built specifically for Canadian REALTORS®. It allows for total control over pages, layout and widgets and enables you to make your dream website ideas come to life.
Truly Mobile
Katana is automatically "mobile-first" meaning that the mobile experience is just as awesome as the desktop one, and not just a squished down version of the full website.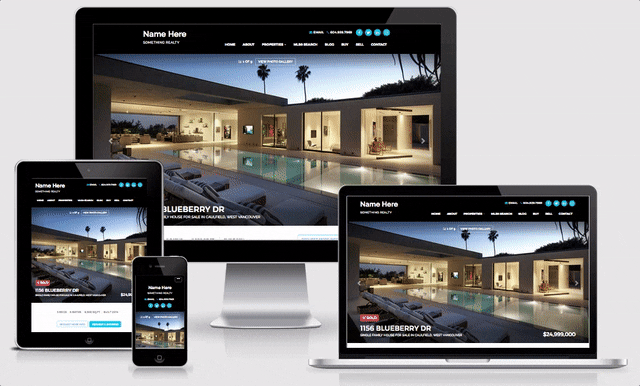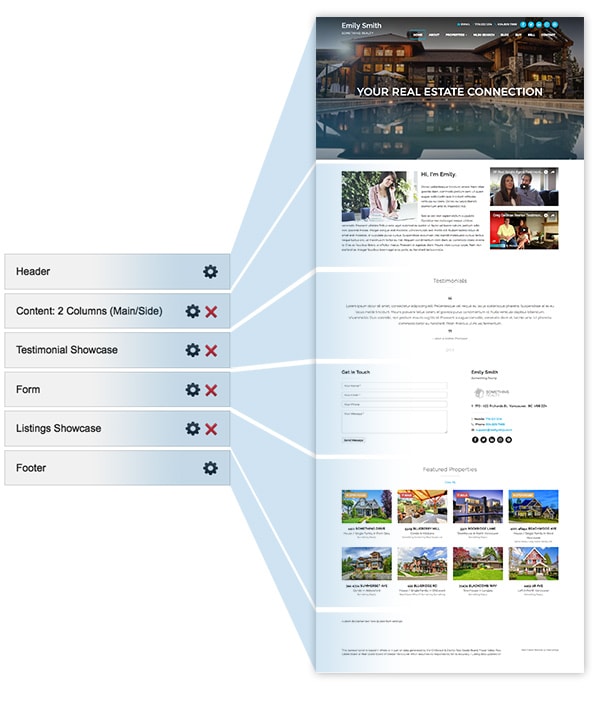 Take Control of Your Website
One of the biggest benefits of Katana (aside from how awesome it looks) is that you'll have more control over your website than ever. Within seconds, you can add multiple "widgets" to your pages, re-arrange them, tweak their settings, edit their content and more.
There are widgets for all kinds of things you need... from content areas, to listings, testimonials, recent blog posts, contact forms and more. Where it becomes really powerful is when you start to mix and match these widgets on your pages. Imagine the creative solutions this would unlock!
Sneak Peak at Various Pages on Katana
Click the thumbnails below for a larger preview.
Note that the images above are early previews and are subject to change.
Semi Custom Design Service
Start with a pre-made design from our collection, and let our Design Ninjas professionally customize it to match your specific brand or look!
Starting at $449+tax. Click on the thumbnails below for fully interactive demos!
Need a completely custom design?
We can do that too! Starting at $999+tax, quoted based on your needs.
What if I already have a website with RealtyNinja, can I switch it to Katana?
Yes! We are inviting all our customers to switch to Katana. If you haven't received your invitation email yet, please use the link at the bottom of this page for more details and to get started. You'll find lots of information for existing customers making the switch.
Is Katana totally done yet?
Katana is available in "beta" right now, meaning that you can sign up (using the link at the bottom of this page) but it's not 100% feature-complete yet. The currently missing features are being finalized and are scheduled to be launched before the end of 2017.
What features are currently missing?
Right now, the biggest ones we're finishing up are "active listings within a building" and "subscribe to email alerts on MLS® searches".
Can I sign up now, and will you guys add the missing functionality once it's ready?
Absolutely.
When is the official launch date for Katana?
January 2018.
Is there a sign up fee for Katana, and will the website subscription cost go up?
No. We currently don't charge people to sign up for a new website, and we won't add a sign up fee for Katana either. Our monthly/annual prices will not change either.
What will new theme customizations cost on Katana?
Katana will have 2 professional theme customization options: Semi-Custom or Fully Custom.
The semi-custom route starts at $449+tax and allows you to choose from one of these pre-made designs and have our Design Ninjas customize it to match your specific brand or look. Basically, the design you pick would be used as a starting point but we'd add in your own graphics, photos, colors, fonts, logo, etc. This service would include up to 5-7 hours of the designers time, depending on the starting design you pick. If you needed extra design work we would be able to add that on top, estimated at our hourly rate.
The fully custom route starts at $999+tax and is quoted on depending on what you need done. You'd consult with our Design Ninjas and they would provide you with a time and cost estimate for your specific project's needs.
Do I have to order a theme customization service in order to use Katana?
Not at all. Katana will look amazing right out of the box, and you'll have the ability to insert your own photos, logo, etc.. Also, there are a number of built-in theme settings and layout options that will make your design look even better. Our goal is that by simply using Katana, it will make it look like you paid a fortune for your website.
Will you discontinue supporting older themes or features at some point in the future?
It's hard to say at this point. Website technology is constantly changing, and our promise has always been to keep our customers ahead of the pack. To do this properly, we need to not only keep up but we need to continue to innovate our software. At some point in the future it just won't make sense for us to invest in supporting our oldest themes or outdated technology. This doesn't mean that you'll be forced off of them anytime soon, but we may not be able to fulfill all requests or fix all possible issues that come up in the long-term.
We believe that we'll be able to WOW you so much with Katana that you'll want to switch on your own. Having said that, some of our older technology will be eventually phased-out in one way or another to make room for future innovation.
Questions? Did we miss something?
Please email us your questions and we'll be happy to answer them. Check this page often for future updates!
Sign Up For Katana!
Are You an Existing RealtyNinja Website Customer?
If so, please click the button below. You'll be taken to a page with specific information for existing customers making the switch.
I'm An Existing RealtyNinja Website Customer
New Customer?
Are you a new customer looking for a Katana website? If so, please click the button below!