"How did it get so late so soon? It's night before it's afternoon. December is here before it's June. My goodness how the time has flewn."
~ Dr. Seuss
Dearest friends, family, and fellow Ninjas.
As I write this, I become increasingly more aware that there are only 14 days remaining in the year 2015. Undoubtedly a big year for the real estate industry, for Canada… for the whole planet as a matter of fact.
It's also been a big year for RealtyNinja.
This year the RealtyNinja team grew to 10. We all lived happily wherever we were. We worked in harmony and extra hard, harder than ever before. We also laughed harder than ever before. We certainly celebrated hard once in a while. We watched one Ninja marry the love of his life, then a few months later we watched another Ninja marry the love of her life. I guess you could say it was a year full of hard work, laughter and love (and of course, celebrations…) The truly important factor that we will never forget is that you enabled this happiness and freedom in our lives, and for that we want to say a few thank you's.
 If you're one of our dedicated, world class customers,
Thank You.
If you're one of our passionate, location-independant Ninjas,
Thank You.
If you are our supportive, reliable friends, families & partners,
Thank You.
If you're a friend that we've had the luxury of working with,
Thank You.
If you're one of the real estate boards that allows us to access data,
Thank You.
If you're someone who has read an article in The Dojo, checked out our Facebook Page or engaged with us online or offline in some way,
Thank You.
We love you guys! Before we let you go, two things:
1) As a little thank you, we've put together a collage. It's photos of our whole team from around the world in 2015. Scroll down to see it and click it to see it larger!
2) scroll further below the collage to see our holiday closure dates and to take A Look Ahead!
Thank You, Merry Christmas & a Ninja New Year!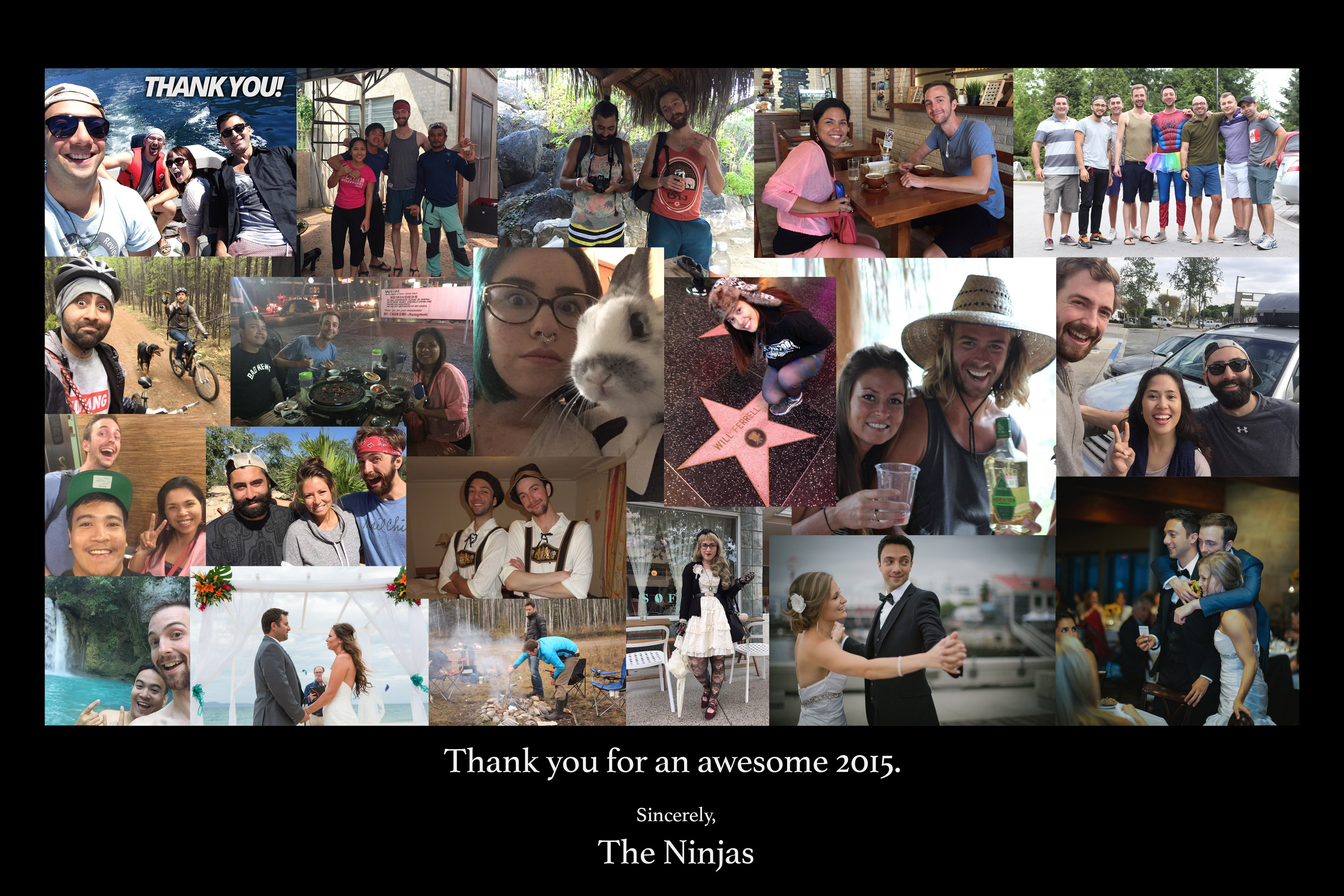 ---
RealtyNinja will be closed Dec 25 – Jan 3
Our team's last day at work before breaking for the holidays will be Thursday December 24th, 2015. If you are a RealtyNinja customer, and have any urgent requests or need assistance, please get in touch with us early next week (Ideally December 21st or 22nd) with your requests and we will take care of them before the break.
We will be closed from Christmas Day (Friday, December 25th) until Monday January 4th, 2016 when we officially re-open for regular business. During our off time, we're going to be spending as much time as we can with our friends and family, eating lots of yummy food, unwrapping presents and generally being merry. Despite all of that, we'll periodically be checking in on our support e-mails in case our customers have any emergencies. We will not be there around the clock, but we're always there for our clients. If you have basic questions regarding your website during this time, we recommend visiting our extensive library of Help Docs here: support.realtyninja.com
A Look Ahead
In 2015, RealtyNinja expanded to more than 80 real estate boards across Canada, and we saw our biggest and most rapid growth yet. But we're not taking any breaks! There are huge things on the horizon for RealtyNinja and for our customers in 2016. It's going to be the best year so far, full of awesome new features and educational content. Some of the updates on our road map include:
Better lead-generation and lead-capture functions,
Gorgeous, new mobile-friendly themes,
Integrations with popular CRM apps,
SEO Improvements & Enhancements,
Much more!
We hope you enjoy the final days of 2015 with friends, family and loved ones in general. Until we speak again, Ninja!