If you subscribe to The Dojo, you recently received an email from us asking you to complete a survey about COVID-19 and how it affects Canadian REALTORS®.
That survey, conducted with help from our friends at REW.ca, received a lot of attention, with over 600 completed entries.
The survey results are out. You can use the form below to download the free 20-page report, but we also wanted to take a moment to highlight a few key findings in this article. Scroll down for more.


As you may have expected Canadian real estate agents, brokers and developers are experiencing an incredibly challenging time due to the coronavirus and its impact on business.
Out of the 639 people that filled in the survey:
74% reported observing a significantly negative impact on their current business.
Direct impact is expected to be between 3-6 months, with an expected recovery of between 6-12 months
Almost 60% believe they will significantly underachieve their sales targets for the year due to the impact of COVID-19
When asked which areas of their business will likely be hit the hardest, 39% of agents said "sales", and property viewings (19%) were the next most quoted area of concern.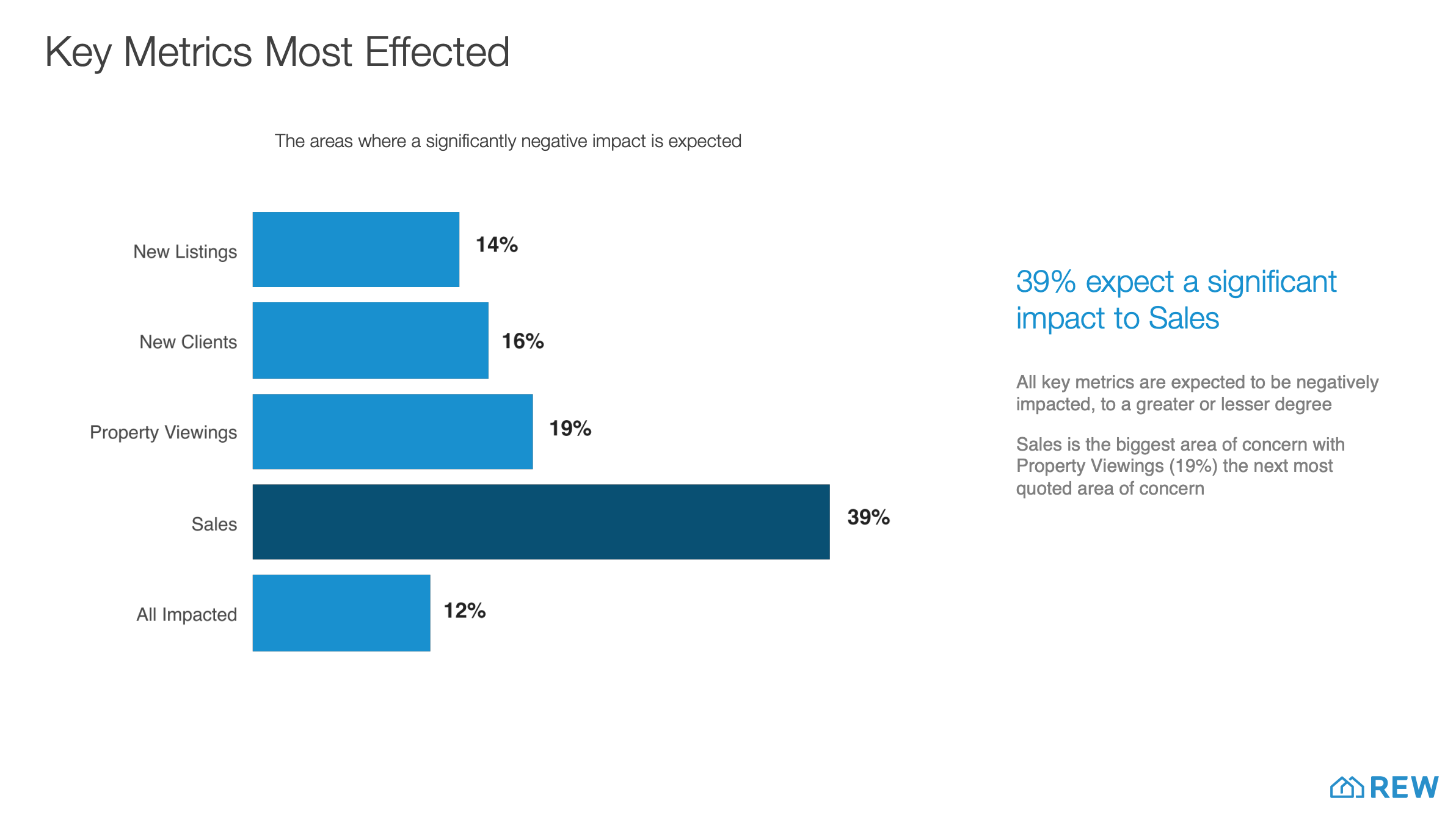 As far as current and expected impact to listings goes, agents stated an average of 40% of their clients have already decided to withdraw their property from the market during this time.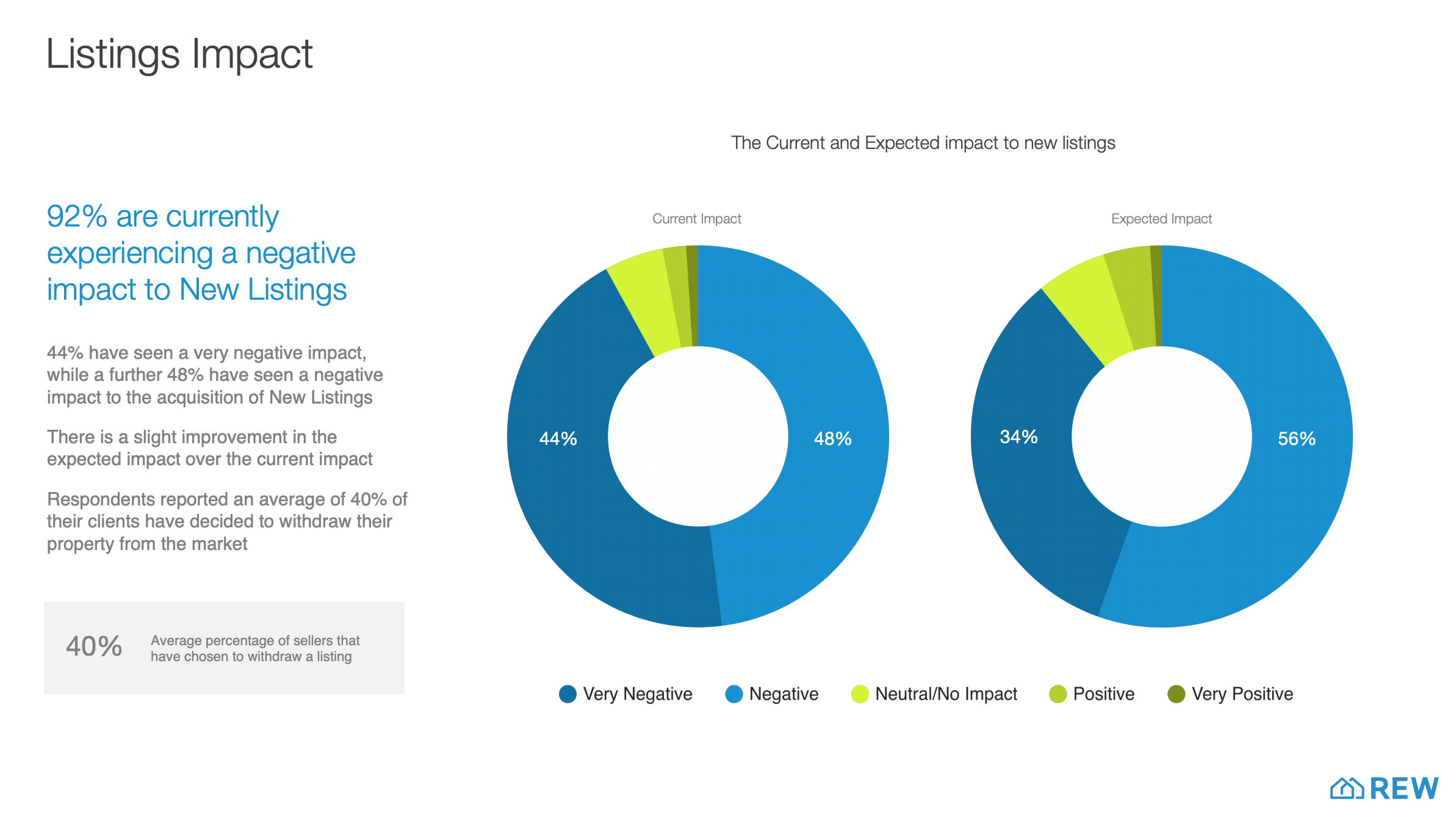 Predictably, there was a 12% increase in requests from consumers to view videos of listings, but conducting viewings was seen as a big challenge during this time of physical distancing.
So, what's an agent to do?
Virtual tours, Video content, and live-streamed open houses are proving to be the most valuable strategy to survive the current crisis.
Additionally, social media activity (56%) and cost-cutting measures (55%) were seen as key steps to take. Traditional media, offline channels (bus shelters, newspapers, etc.) were not seen as viable strategies to continue in the current state of things.
Note for RealtyNinja customers: We now have automatic live stream open house functionality built into your site. Make sure to check out our blog post on that, which includes a step-by-step guide on how to conduct your first live streamed open house.
As your in-person options are limited, respondents said that digital marketing initiatives including updating your website (37%) and improving presence on marketing platforms like rew.ca (21%) were also listed as important.
When looking at long term recovery strategies, as you may have guessed, creating, and managing relationships with your clients came out ahead as the number one predicted success factor.
Your business reputation, trust, and ability to connect with your network has never been more important.
Your real estate website is more than just a digital business card. It represents you 24/7, even when you're not able to be there in person. Take a look at your website now and imagine you're a prospective client… does it represent you? Does it make a good first impression? If you answered no then it's time to get a RealtyNinja website. We'll make sure your online business looks as sharp as your offline one. Start your unlimited free trial at www.realtyninja.com
We'd like to thank our friends at rew.ca for taking charge of this initiative and putting this report together for our community.
We believe we'll all feel the benefits by working together and sharing insight and information.
---


REW is BC's No.1 Real Estate website and is expanding fast across Canada, seeking to partner with real estate agents and help people find their next home. We provide powerful online marketing at a time when people need it most.