As a marketer, thoughts of cool campaign ideas & strategies can follow me into bed…
… the result? My dreams occasionally present me with new and unique marketing ideas (that were right in front of me the whole time.)
Sometimes, these dreams get forgotten as do the potentially winning ideas they brought forth. Luckily, this was not the case in my dream last week.
In the dream, I remember having a goal in mind to
double the readers

on The Dojo. I also wanted RealtyNinja to be

more proactive with Video

. And I had a solid plan…

These are two very real objectives that we've had in mind for the better part of 2017. While the objectives were real, the solid plan was nowhere to be found……. .. . . YET!

With the release of Katana this year, the whole team has had their plates (and minds) full. Leaving very little room in the waking mind for imagining new ideas.

Luckily, the sleeping mind is working overtime.

In the dream, I had the idea to create brief 1-2 minute videos that summarize the most important points from each of our Dojo articles. I then took those videos, uploaded them to our YouTube and Facebook, and embedded them into their corresponding article in The Dojo (near the very top!)

As I sat on the edge of my bed, wiping the sleep from my eyes, I realized that this was actually a super awesome idea…
The Dojo Recap video series was born that morning.
This series of videos is created entirely by Rommel, one of our incredible Design Ninjas. Watch our first ever Dojo Recap video below before you continue!
What's so smart about this idea?
There are various reasons why this new strategy is going to be very powerful for RealtyNinja moving forward:
A.) Our Dojo articles can be quite lengthy to read
Generally, when I write an educational real estate marketing article for The Dojo, it takes between 10 – 20 minutes of your time to read it.
Sometimes REALTORS® don't have that long to commit to reading a whole article. With these Recap videos, visitors can get the most important points from the article into their brain in record time.
Hence why we embed these videos in the top of our Dojo articles. So readers can decide whether to read on if they have time, or to watch a condensed edition!
B.) Video is the most engaging content medium
Retaining peoples' attention is a core objective in content marketing today. In an economy of attention, it's our job as marketers to make our content as engaging and 'sticky' as possible.
Video is undoubtedly the most engaging form of marketing content, and one of the best ways to transfer information from one mind to another over long distances.
In fact it's proven… 59% of senior executives agree that if both text and video are available on the same topic on the same page, they prefer to watch video. (source)
C.) YouTube is the world's 2nd largest search engine
Being owned by Google means that YouTube has been transformed from a video sharing site into the world's largest video search engine. The world's 2nd largest search engine overall.
The fact that YouTube is a search engine means that SEO can occur on YouTube as well as Google. In fact, it's reported that companies using video enjoy 41% more web traffic from search than non-users (source)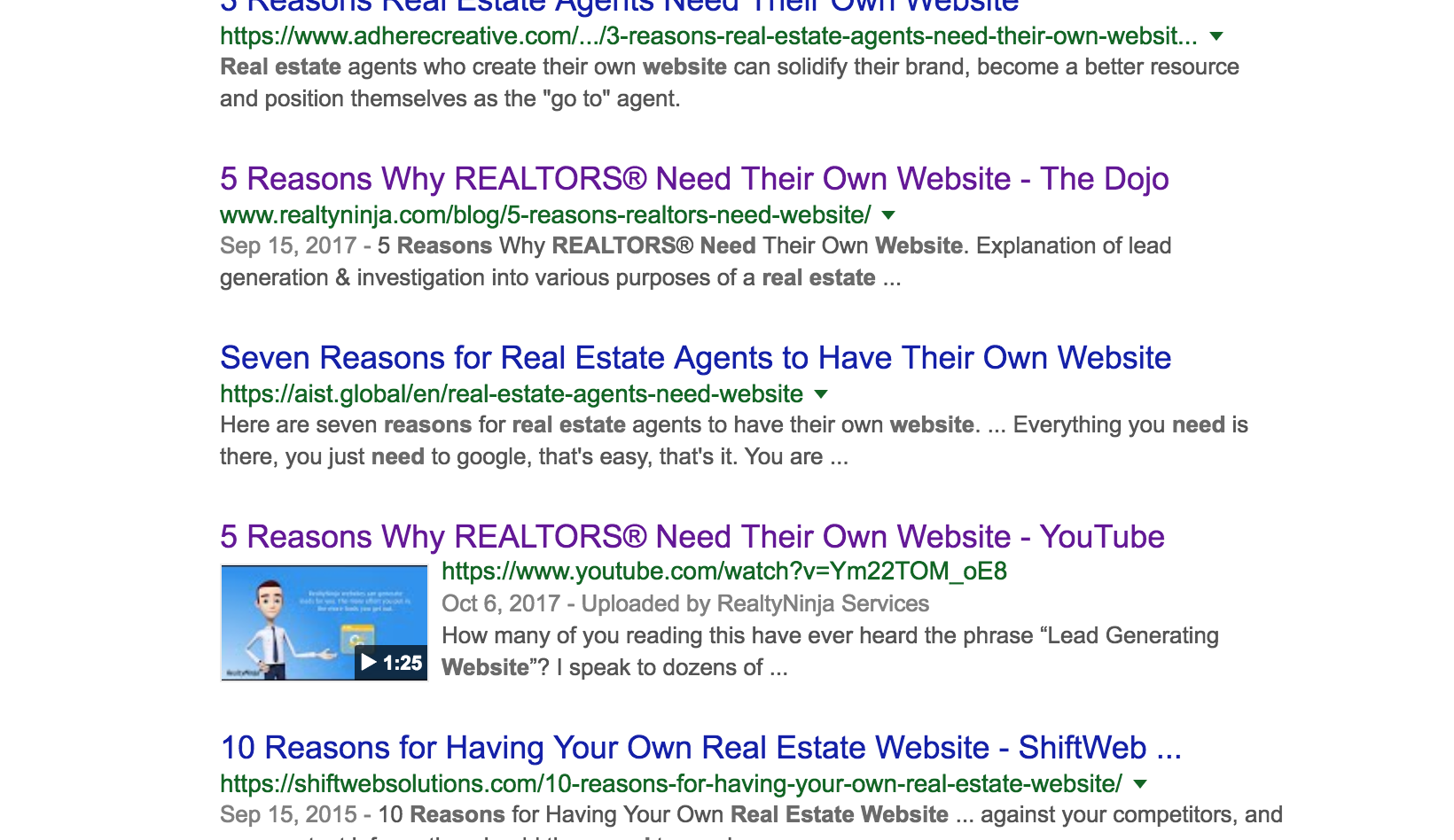 By duplicating our written articles (discoverable on Google) into short Recap videos (discoverable on YouTube,) we are duplicating the likelihood that our Dojo article is discovered via organic search.
D.) Video in an email leads to 200-300% increase in click-through rates (source)
Everytime we publish a Dojo article, we send an email out to our mailing list featuring that article. That email contains an image which you can click to go to the article.
While our email click-through rates are good, they can always be better. And as our friends at HubSpot report, video in an email leads to 200-300% increase in click-through rates (source)
So the next email I send to our mailing list is going to include a video screenshot with a big fat ► (play) button in the middle of it.
Although you can't actually play videos within an email (not physically possible,) once you've clicked and arrived at The Dojo article, you'll be able to watch the video anyways. Win/Win!
E.) They make the RealtyNinja brand look really awesome
Now that we've got three total Dojo Recap videos published, I've created playlists that host them on both the RealtyNinja YouTube Channel and our Facebook page.
See the Facebook Playlist here. See the YouTube Playlist here.
These playlists and the videos they house help brand us Ninjas as friendly, helpful real estate experts with useful resources for REALTORS® like you.
They also just make us look cool (like we obviously are) and professional (in our own unique way.)
F.) They repurpose our existing content, providing far greater (paid) reach
Originally, our Dojo articles would receive a modest Facebook Advertising "Engagement" boost. Adding Dojo Recap videos to our marketing arsenal means big upgrades to our online advertising efforts.
We've just unlocked the ability to launch video ads from our Facebook Page and our YouTube Channel too!

Seeing as video is the most engaging form of marketing content, we hope to reach thousands or hundreds of thousands (OR MILLIONS – ya never know) of eyeballs over the next year.
Oh, and each of the videos contains a link to the full Dojo article it represents in it's description. That way, we're always trying to lead some curious traffic back to our website!
Case Study: Measurables
I wanted to bring our readers into the fold to help us monitor this latest video campaign. As of today, we will be monitoring the Dojo Recap series on an ongoing basis to measure a few things:
Are these videos being watched? How much? Where?
Are these videos sending significant traffic to The Dojo?
Is that traffic resulting in new business opportunities for RealtyNinja?
Currently, we don't have any concrete answers to the above questions. This campaign is brand-spankin' new and we have very little data (although, the data we do have is promising.)
Knowing that any marketing initiative takes time before it begins reaping rewards, we're in no rush. That said, we will be tracking and reporting on our findings at 3, 6, 9 and 12 months from now!
The next scheduled check-up will be on JANUARY 18, 2018.
At that time we'll update this article and release an announcement on our Facebook Page regarding the progress of this campaign. By the end of 12 months, we will have a complete case study for you containing all the details.
If you'd like to stay in the loop about the Dojo Recap case study (you will receive infrequent email updates with important info and data pertaining to the study) please use the form just below to let us know.
PS. I know this article doesn't have it's own Dojo Recap video. We thought that would be a bit too meta.
PPS. Don't have a Rommel on your team? Check out Fiverr and PowToon for creative and affordable solutions.